Bali has one of the most vibrant and lively nightlife scenes for tourists looking to make the most of their nights, while at Bali. Catering to large crowds with varied budgets and needs, the nightlife in Bali has everything you may want – beach clubs that are open up until the wee hours of the night, live DJ's, sunset dinners, theatre shows, rooftop bars; tourists experience the best of them all.
Tourists who are looking for streets filled with bars, nightclubs, and pubs; should head towards the regions of Kuta, Legion, and Seminyak; while those wanting a quieter more relaxed nightlife – can spend their night at Nusa Dua, Sanur or Ubud.
1. Night Clubs
Bali has some of the world's most renowned clubbing scenes, with a wide range of bars pumping bass, amazing dance floors, and late closing scenes – giving tourists the opportunity to experience the amazing nightlife in Bali and to party hard until sunrise.
Entrance:
Cover charges are included and most times include a drink or two as well.
Identification:
Tourists are required to carry some ID in hand while visiting any of these clubs. Please note that just your passport isn't enough.
Dress Code:
Men are required not to wear sleeveless shirts while at the club, though wearing a normal t-shirt is widely accepted.
2. Beach Clubs
Featuring beach clubs that overlook the surf and the beautiful Indian Ocean, coupled with some Ibiza inspired party vibes; the Bali beach clubs are located at the best of spots and are the best place to experience the nightlife in Bali.
Some of the most famous beach clubs include – Ku De Ta, Potato Head, Mozaic, and Cocoon. They are not only home to amazing beats all through the night but also spice up the morning with the scenic sunny coastlines that light up the clubs.
Location: Seminyak, Kuta, Ungasan
Timing: Post 8 pm
3. Night Market
Locally referred to as the 'Pasar Malam,' or 'Pasar senggol,' the night market gives tourists an insightful evening filled with shopping and dining experiences that are sure to take your breath away. Some of the most popular night markets include – Sanur, Kereneng, Gianyar, and Badung. These markets have traditional small stalls that delight tourists with local food, snacks, and knick-knacks at extremely cheap prices giving you a wonderful nightlife in Bali experience.
4. Rooftop Bars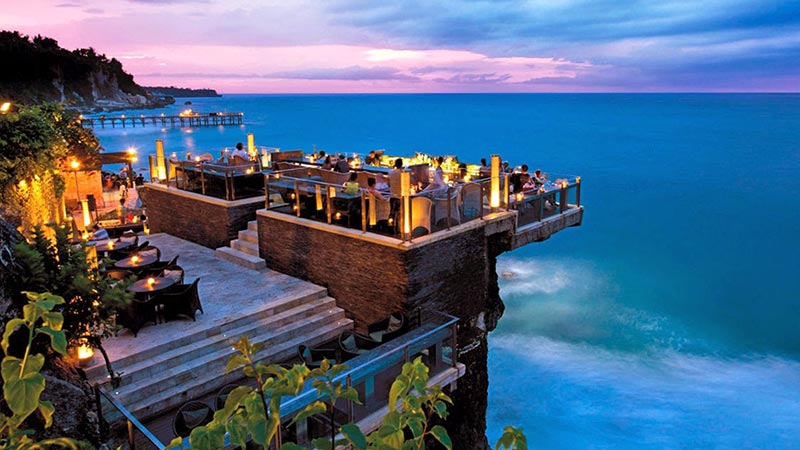 Offering a combination of amazing vibes, innovative drinks, and lovely settings; the local folks in Bali love to chill out and enjoy the rooftop bars. If you would love a breezy setting, with an open starlit sky – the rooftop bars must be your go-to to enjoy Bali nightlife !!
Location: Seminyak, Legian
Timings: 5:00 pm 12:00 am
Must Visit: Vertical Point, Townhouse, U-Paasha Rooftop Pool Bar
5. Traditional Dance Performances
Modern theatrical shows that are staged at ancient temples, to intricately choreographed and culturally insightful dance performances, Bali's collection of theatre and live shows are something for tourists to look out for. The shows are combined with dramatic lighting effects and soundtracks that transverse you into another world altogether.
These shows have a unique blend of storytelling coupled with dance troupes dressed in elaborately designed costumes. From local folktales to ancient Hindu epics, watching some performance art in Bali is a great way to learn more about the unique culture of the island and its people.
Location: Badung
Timings: The dance happens on Tuesday, Thursday, Saturday, Sunday at 4:00 pm every day
6. Live Music Venues
Bali has an ever trending live music scene, with venues featuring live music performances with great local and International bands jamming some of the best music you'd have ever heard. Tourists looking to enjoy a laid back evening, soak in the magic of music and hog on some amazing food – should totally head over to some of the live music venues present all across Bali and enjoy the most of nightlife in Bali.
7. LGBT Nightlife
Bali also has a thriving gay nightlight scene along the area of 'Jalan Camplung Tanduk,' located in Seminyak. Though the nightlife here isn't as lively as that in Bangkok, the gay nightlife in Bali is concentrated on just this region.
Most bars open in the later hours of the evening and close around 03:00 am. Some of the most popular bars in this area include – 'Bali Joe' and 'Mixwell,' two most long-running favorites of the region.
Tourists are most definitely spoiled for choice when it comes to nightlife in Bali. What are you waiting for? We at 'Pickyourtrail,' would love to craft an amazing Bali Indonesia package just for you. Start planning and Happy Travelling. 
Note: The images that are being published here are the author's choice, and the organisation takes no responsibility for their usability.