To begin with, Valencia still belongs to the less frequented spots of Spain. However, it is the 3rd biggest city in the country. Subsequently, this city has developed into a vibrant place with an enormous variety of things to do. Looking to spend your weekend at a perfect spot? Valencia is said to serve the purpose with its distinctive sights, amazing Spanish food accompanied with a laid back atmosphere.
Valencia has a little something for everyone. From a historic city centre to the gorgeous sandy beach, great food to warm weather, marvellous culture to stunning nightlife, the city has got all elements of amusement.
If you're planning to visit Valencia for a long weekend, here's our guide for a perfect weekend in Valencia.
A long weekend to Valencia!
Historic Friday on foot
Visit the following :
Plaza de la Virgen
Plaza de la Reina
Central Market
Plaza de la Virgen
Mini gardens filled with orange trees, the buzz and excitement from visitors, sight of the Cathedral fro outside and within pretty much sums up Plaza de la Virgen.
Plaza de la Reina
It is the city's hotspot, located on the opposite side of Plaza de la Virgen. This place is crammed with lots of bars, cafes and Tapas restaurants. Entertainment is guaranteed while you enjoy the beautiful sunshine in one of these busy places.
Central Market
Think about shopping, Central Market just has it all. Central Market has over 300 stalls making it an enormous market.
Saturday city tour on wheels
Hire a cycle and get yourself a city map before you visit the following :
Turia Gardens
City of Arts and Science
Beach
Turia Gardens
Get yourself to Spain's largest urban park to experience the unique character of Valencia. From exercising to just enjoying the gorgeous outdoor space, Turia Gardens is one of the best relaxation spots.
City of Arts and Science
Take some time to admire the work of architect Santiago Calatrava on reaching the City of Arts and Science. Inside you will find everything from an aquarium to a multiplex cinema. You can even simply spend your whole day here.
Beach
Need some more relaxation? Visit the gorgeous golden sands of Las Arenas Beach, one of the best beaches in Spain. There are lots of bars and beach along the beach. Grab a cool drink from Las Arenas Hotel – a 5-star leading hotel enjoying the view of the beach.
Glorious Sundays for more relaxation
Visit the following:
Cafe de las Horas
Ruzafa Area
Cafe de las Horas
Craving for a coffee or a freshly squeezed orange juice? Head to Cafe de las Horas to treat your tastebuds. The coffee is great here. But the main attraction is the grand and completely OTT decor. It's gorgeous!
Ruzafa Area
Ruzafa – the new hot spot of the city is often referred to as Valencia's version of Shoreditch. This area is filled with creatives, artists, hipsters, and students. This place is now attracting more of youngsters who like stylish bars, cafes, restaurants, boutiques, galleries, markets. Perfect place to spend your Sunday afternoon!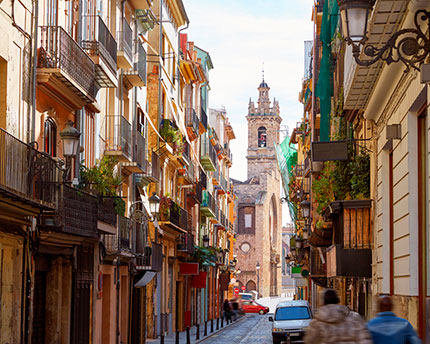 Can your weekend get any better than this? Spend your weekend with your family. From relaxation to discovering places, cafes to beach Valencia has got it all to spend your weekend in a perfect way. In fact, you might be surprised at how much there is to explore in a short break in this little city. Valencia is all about pure excitement!
What are you waiting for? Book your customised vacation with Pickyourtrail and craft your itinerary exactly the way you want or select from various packages available online. Also, you can also drop in your query on Whatsapp and our travel experts are at your service! Alternatively, you can download Pickyourtrail app for more handy information and services.
Note: The images that are being published here are the author's choice, and the organisation takes no responsibility for their usability.