This beautiful capital city of UAE i.e Abu Dhabi is located on the edge of the desert and is like an island in the Blue turquoise water of the Arabian Gulf. Being the most populated city in UAE, Abu Dhabi is still quieter than its neighboring city Dubai. Abu Dhabi has more Emirati Culture and tradition, plus it is home to some of the most beautiful attractions in UAE. That is something that makes Abu Dhabi a place to visit for sure. There are many places to stay in Abu Dhabi and the experience is top-notch. If you are planning to go with your family, you can find many places and the same goes for all sorts of travelers. From Luxury to the most budgeted one, PickYourTrail is here to tell you about where to stay in Abu Dhabi.
Also Read: Best Time to visit Abu Dhabi
For Luxury stay
The place where you can find luxurious hotels in Abu Dhabi is near Corniche Area. From Emirates Palace to Le Royal Meridien Abu Dhabi, luxury can be seen quite evidently in this area.
The Emirates Palace is known for the butler service provided to each and every single room inside the hotel. Also, you can find yourself surrounded by gold everywhere you see. Travelers stay here to experience the Palace Cappucino served on a silver tray.
To have a 360 degree of beautiful view by just sitting at one place is so magical, and Le Royal Meridien offers it to you. All rooms are made in such a way that luxury drolls from it. Oceanview rooms are also there in this hotel for you to watch the breathtaking views Arabian sea.
Located in the Saadiyat Beach Golf Club, The Park Hyatt Abu Dhabi Hotel & Villas is a treat to one's eyes. Along with spacious and well-maintained rooms, you can even experience the private garden & beach villas. Few of them even have a private pool.
Have you heard of bird's-eye view? If not, then Jumeirah at Etihad Towers is the place to be. It is so tall that people visit this hotel to watch the breathtaking views of the Arabian Gulf from the 74th floor. The rooms in this hotel are worth spending the money on, so beautiful.
Rosewood Abu Dhabi, situated in the Al Maryah Island this hotel gives out stunning views even at night time. A special amenity of this hotel is the beautiful pool area because of the artistic lighting.
Also Read: All you need to know about Abu Dhabi
For Mid-Range stay
The place where you can find mid-range hotels in Abu Dhabi is the whole Abu Dhabi itself. There are plenty of resorts But if you plan to travel during the non-peak season then even in the Corniche area you can get hotels for a better rate.
Starting off with the InterContinental Abu Dhabi. This mid-range hotel comes with a private beach and anyone visiting it can go and relax on the beach. And guests can also enjoy a variety of cuisines that the hotel offers. This hotel provides various dining options to its guests, like Brazilian, Italian, Lebanese, and seafood restaurants.
Situated 15 mins away from the Marina Mall, The Hilton Abu Dhabi is a beautiful hotel with eye warming views of the city. The special thing about this hotel is that it has its own Beach Club & which is filled with activities.
Want to experience the beautiful Sunset Cruise? Then Sheraton Abu Dhabi Hotel & Resort is the place for you to be in. Along with the experience of 3 different pools, you can also experience the Sunset Cruise which is arranged by the hotel.
If you are a family traveling then Holiday Inn Abu Dhabi is the best option. Situated near the Sheikh Zayed Grand Mosque, this hotel is quite peaceful and not so loud kind of hotel. You get free wifi and if your kid/kids are below 12 there stay is free with parents. And if less than 4 years old then food is also free.
Also read: Sheikh Zayed Grand Mosque – Abu Dhabi's Crown Jewel
For Budget stay
The place where you can find budget hotels in Abu Dhabi is usually on the city centre. Abu Dhabi is for all and it is not weighed down to one set of travelers. All are welcome to this capital city of UAE.
If you are someone who loves shopping, then Majlis Grand Mercure Residence Abu Dhabi is the perfect and budget hotel for you to stay. Situated in the heart of the city, many shopping areas are available nearby. Along with the free shuttle service to Marina Mall and Abu Dhabi Mall, this hotel also has the famous French Restaurant in the whole of Abu Dhabi.
Situated in the city center, Al Diar Dana Hotel gives you a great sea view and city view rooms. It also offers junior single and double suites at such an affordable rate.
Built close to the Ferrari World & Yas Waterworld, Centro Yas Island Abu Dhabi by Rotana is the best family-friendly & budget-friendly hotel. Close to it, there is Yas Mall, which is considered to be the biggest shopping complex in the whole of Abu Dhabi. Who would not love such property like this?!!
Also Read: Top Free Things To Do In Abu Dhabi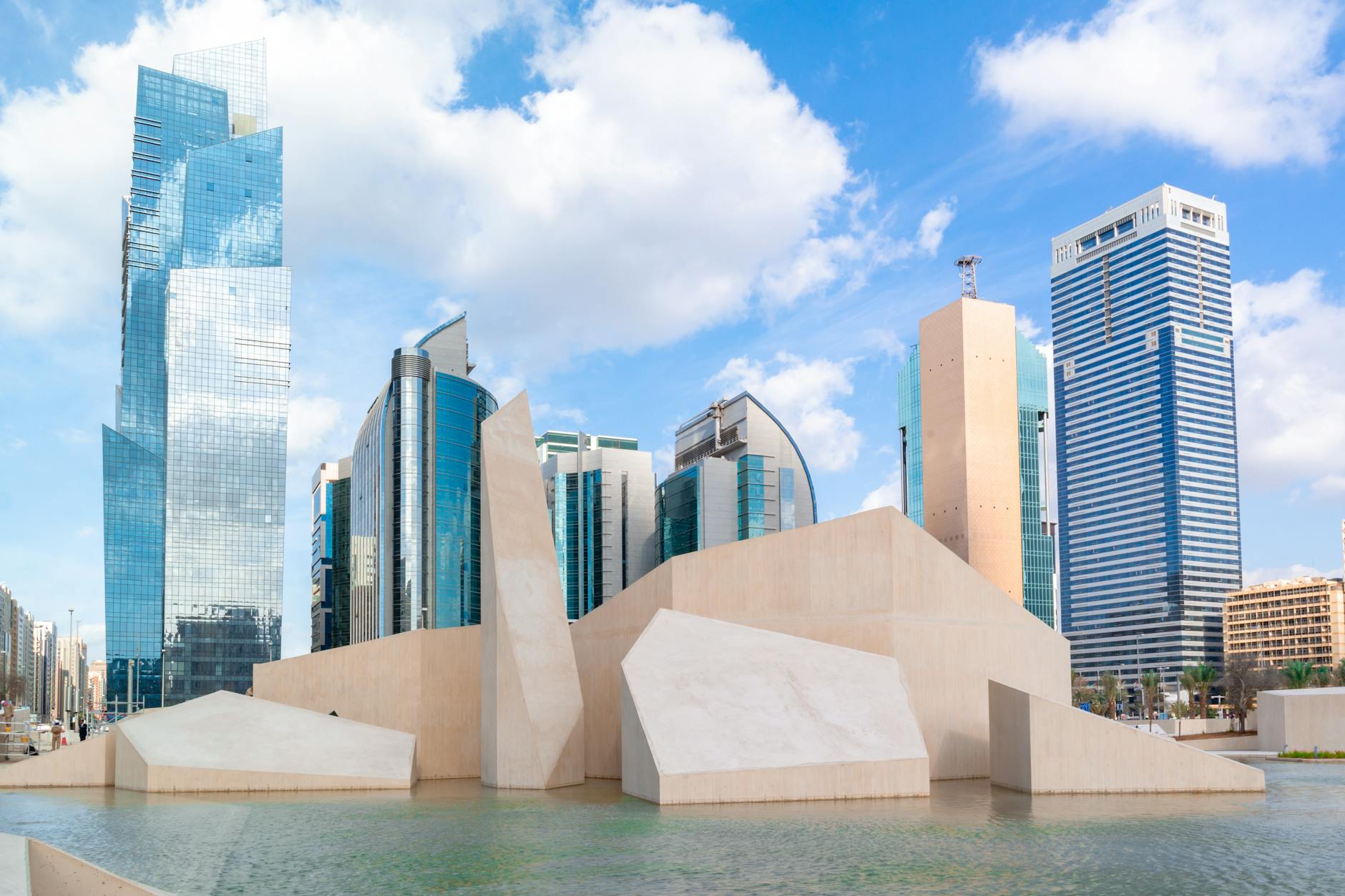 For Family-friendly stay
The place where you can find family-friendly hotels in Abu Dhabi is, as mentioned above, "Centro Yas Island Abu Dhabi by Rotana" in Yas Island. With so many adventurous things to do. From Ferrari World to the Yas Waterworld, Yas Island stands number one on the leader's board of Family-friendly stays.
W Abu Dhabi – Yas Island, the hotel with the view of Marina Circuit is super modern and gives luxurious feelings at a reasonable rate. You will be able to see the turquoise racetrack while having a delicious dinner. The hotel has a private beach for its guests to go and relax.
If you want to enjoy the Ferrari World, the Park Inn by Radisson Abu Dhabi, Yas Island can be the best option for you. Who would want to miss out on the adventurous and powerful Ferrari world by even an hour?! Also, this hotel has its own play area in the Garden.
Beach Rotana is the only hotel connected to Abu Dhabi Mall. You get easy access to the huge mall. But the thing which makes this hotel best for the family is the indoor and outdoor covered play area for children.
Also Read: Home Is Where Family Is – Stay at Abu Dabhi with family
For Couple-friendly stay
The place where you can find a couple-friendly stay in Abu Dhabi is near Sheikh Zayed Grand Mosque. The Shangri-La Hotel, Qaryat Al Beri, Abu Dhabi has modern and romantic middle eastern vibes to its infrastructure. With all rooms featuring a private balcony and good quality marbles, the stay becomes more lovely and cherishable!
Royal Rose Hotel is another suggested place for couples to stay. It is a luxurious property and has three types of suites and the rooms are fully furnished in a European baroque and have an Arabic touch to them. Special treatment is given to the couple celebrating Anniversary. If you book the rose suite you get the butler service and limo transfers.
Have you ever seen a hotel connected to another hotel and a mall? If not, then this romantic hotel in Abu Dhabi called Four Seasons Hotel Abu Dhabi at Al Maryah Island is the best to witness that. It is a romantic hotel located near Abu Dhabi Global Market. The whole infrastructure is full of printed marbles and fresh flowers which create a very lovely atmosphere.
Have you ever heard of a hotel inside a glass tower? If not, then this Thai-influenced Dusit Thani Abu Dhabi is the hotel for you to experience. All rooms have floor-to-ceiling windows & a few of the rooms even provide you butler service to make your stay feel quite royal. This hotel is top-notch when it comes to the service provided.
Also read: 8 Reasons Why Abu Dhabi is a Perfect Honeymoon Destination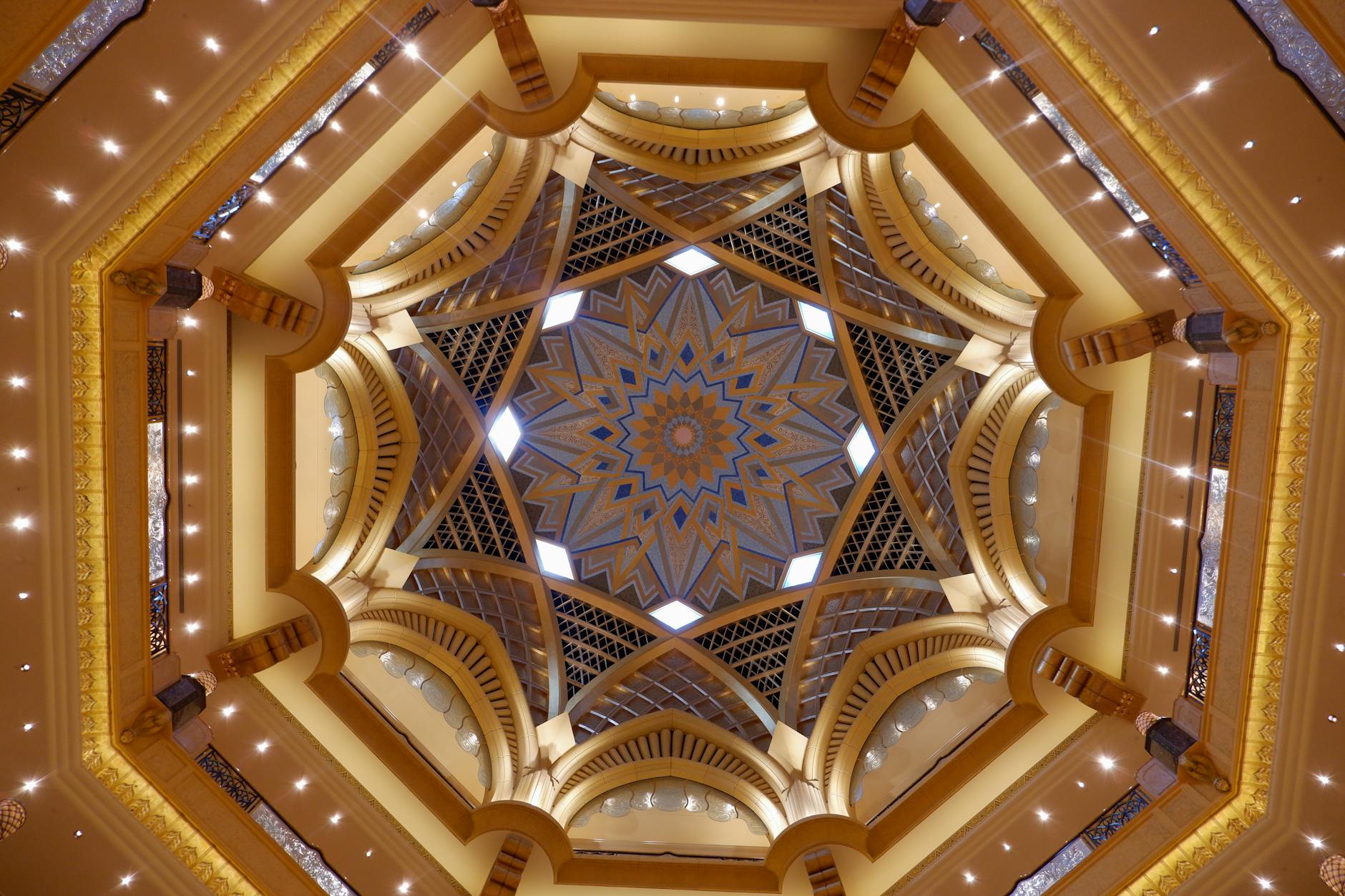 For stay near Airport
Abu Dhabi has made sure that it has hotels ready in every part of the city. And for travelers who prefer staying near the airport, voila! Abu Dhabi has it for you. You can find good value for money hotels near the airport and all these hotels are easily bookable overnight. Hotels like Aerotel Abu Dhabi & Premier Inn Abu Dhabi International Airport Hotel, are budget-friendly yet quality hotels near Abu Dhabi Airport.
Also Read: 10 Day Trips From Abu Dhabi: Best of UAE
Abu Dhabi is no doubt, one of the most beautiful architectural cities out there. It welcomes all sorts of travelers with open arms and makes sure that it sticks to their hearts and is permanently there.
Have you been planning to travel here? Head over to the PickYourTrail website and bring your plan into reality. Check out for some great packages for Abu Dhabi or customize according to your suitability and experience Abu Dhabi like never before.
Thanks, reader! Happy vacationing 🙂
Note: The images that are being published here are the author's choice, and the organisation takes no responsibility for their usability.