Whenever someone talks about Geneva, People tend to naturally associate it as the financial centre or headquarters of many reputed organisations governing the world economy. What people tend to overlook are the charming attractions in geneva houses. In this article, we will explore the touristy side of Geneva and also the best things to do in Geneva.
Geneva, set on the southern boundaries of Switzerland is home to beautiful lakes and museums. Cobbled streets, lively public junctions, chic cafes are an inherent part of this city. With a couple of lakes and ice-capped alps just around the corner, Geneva is an ideal destination for adventure and as well as for a peaceful vacation.
Best Things to do Geneva
Lake Geneva
Jet D'eau
Cern
St Pierre Cathedral
Bicycling around the Geneva old town
Night Clubs
Palais des Nations
English Garden
Batie Woods
Best place to enjoy the sunset and sunrise with snow-capped mountain in the backdrop. The place gets lively as the day progress with streets artists performing for the crowds during the evenings. During early August, a sunrise festival is organised where people enjoy their breakfast while witnessing the awe-inspiring views of the city and soaking in the lovely ambience and music. Swimming is allowed but only in a few restricted areas. if you are hydrophobic and don't want to indulge in swimming, can opt for a boat ride and enjoy the views with few clicks. Lake Geneva tops the list of things to do in Geneva.
2. JET D'EAU
One of the most Iconic fountains in entire Europe is Jet D'eau. 500 Litres of water jets through the air reaching a height of 140 Metres. The fountain is literally visible from any corner in Geneva. Initially built as a safety valve for hydraulic power plants, Jet D'eau eventually become a tourist hotspot as people perceived this more as an attraction than a safety valve. Jet D'eau is set of the south tip of Lake Geneva close the french border.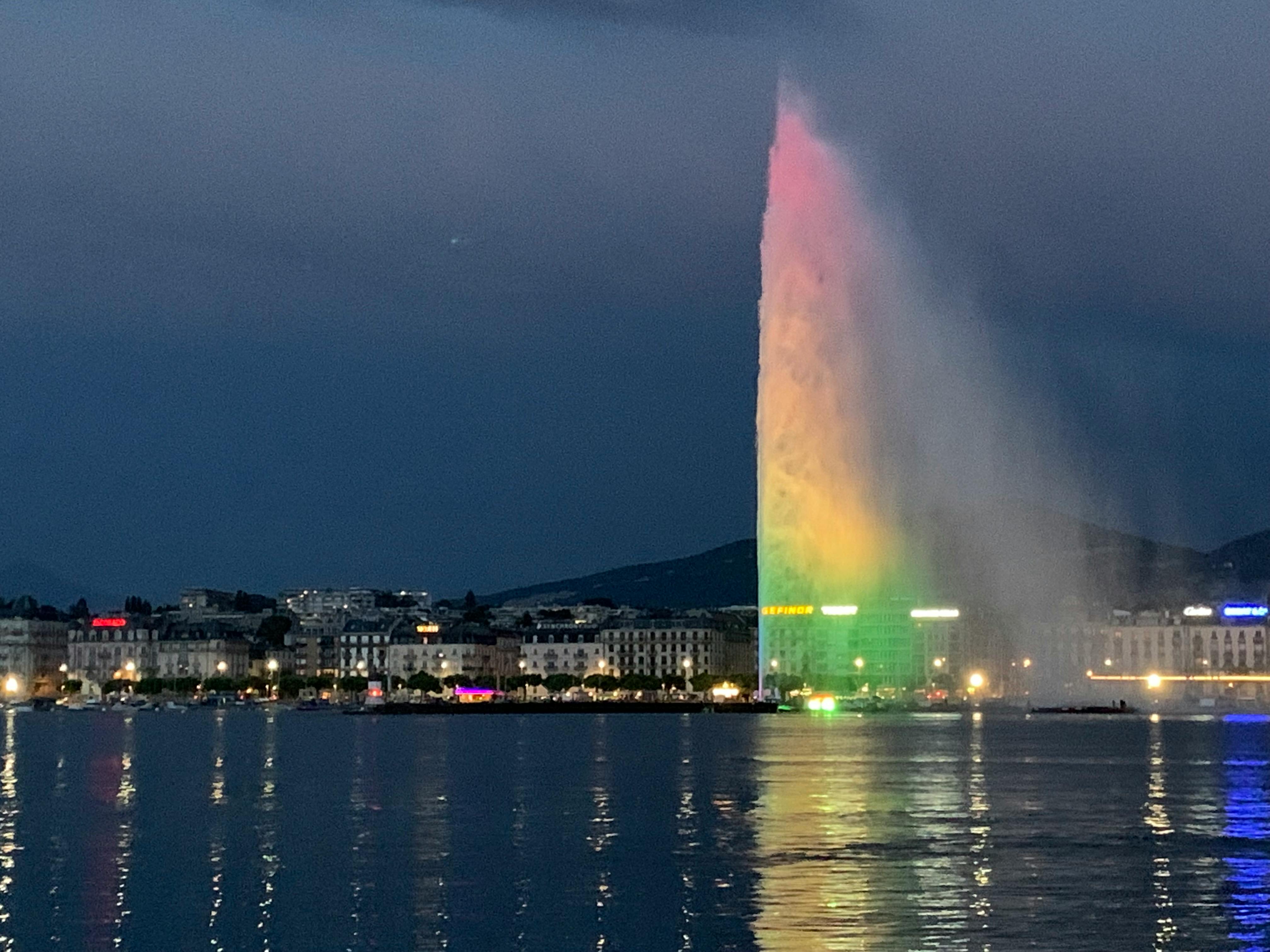 Also Read: Explore the warm city of Bern in the cold country of Switzerland
3. CERN
This side of Swiss probably you won't find in any other cities of Switzerland. Cern can be planned as a day trip from Geneva. Cern houses the largest machine ever built by humans. A beautiful place to reinvent your geeky side. Experiments relating to atomic physics like neutrons collisions are conducted here. Ensure you make your reservation at least two weeks in advance since its an uphill task to get a ticket for a contingent plan. Cern is also the headquarters for the European organization of Nuclear research.
Geneva is home to many interesting cathedrals. One such cathedral is St Pierre Cathedral. The construction of the cathedral dates back to 12th Centruy, but facade gives an impression of recent neoclassic architecture. The cathedral has a viewing platform where you can enjoy a panoramic view of the city and alps. The church is open throughout the week with opening hours starting from 9.30 am and closing at 6.30 p.m.
Also Read: Top 7 Things to Do in Lucerne: The best of Switzerland
5. Bicycling around the Geneva old town
One of the best ways to explore Geneva and get a hang of the city is through a bicycle ride around the city. Anybody can rent a bicycle by showing a valid ID and it cost around 20 CHF as a deposit. Ride along the old town of Geneva where you can explore numerous cafes, local food and not to forget Swiss chocolates. But ensure you don't park your bicycle out of your sight. Few restaurants like Chema Cuisine serve the best chicken and beer, hence stop by to satiate your taste buds.
6. Night Clubs
There is no shortage of Night clubs in Geneva. A good way to keep your evening occupied is through these nightclubs. Few nights clubs like Java Club doesn't charge anything for entrance and hence choose your night club wisely else it will surely blow a hole in your pocket. Most nightclubs have an exclusive collection of beers and cocktails, don't miss out your cheese cravings as a trip to Swiss is never complete without tasting chess Delicacies.
Also Read: Top 7 Things to Do in Grindelwald: The Best of Switzerland
7. Palais des Nations
As mentioned previously, Geneva is home to the headquarters of most international organizations. Same goes for the united nations office as well. Geneva has the second most important UN offices. Geneva is known to host thousands for intergovernmental meeting and foreign affairs meetings each year. Although the entry of public is restricted during meeting schedule, however on normal workday travellers are allowed to take a guided tour and guided tours are available in 15 different languages.
8. English Garden
Around the corners of lake Geneva, a beautiful garden commonly referred to as English Garden is set up for public to relax and rejuvenate after a busy day. You can enjoy the display of assorted florals and fountains while you sip in your beverage in the cafes inside the garden. A garden was set up in the mid 1850s and has been a popular hangout spot for local ever since. A key attraction of the garden is 16-metre wide floral clock that was designed in order to pay tribute to swiss watchmakers.
Also Read: Best Things to Do in Basel (Switzerland) for an unforgettable experience.
9. Batie Woods
One of the best places to escape the hustle and bustle of the city and spend your time peacefully in the woods. This park is full of long slender trees and ideal if you just want to relax or enjoy an outdoor adventure. there are a couple of cafes for an evening snack. If you are looking for a short hiking session, you will find plenty of trails in this park. There are few defined paths for bicycling as well. A good spot to enjoy the evening with family and children without having to go away from the city centre.
Geneva is indeed one of the underrated tourist destinations in Swiss. It is well connected through Swiss rails if you want to explore places like Montreux and Gstat. If you planning a vacation Swiss, reach out to travel consultants from Pickyourtrail and customise your Swiss itinerary. You can also check the Swiss Packages page and reach to us on Whatsapp for more information relating to Swiss and other international destinations.