Do you have a wonderful Mumbai to Switzerland vacation in mind? But do not know how to go about the flight information? You are at the right place where all the information you need is curated just for you! It is a well-known fact that vacation planning takes so much effort into it as nobody would want it to go wrong in any way after all the efforts being put in. Switzerland being a landlocked country promises a memorable experience as especially it consists of 60% mountains. Who would want to spoil such an opportunity to visit Switzerland due to the lack of information on the flights? All of us know that vacation planning in itself is tiresome if not planned well and so I would love to help you ease your pressure when it comes to flight information! What are you waiting for? Let us start!
Information to know before going ahead with booking flights from Mumbai to Switzerland
Introduction to the Mumbai airport – Chhatrapati Sivaji Maharaj International Airport
Introduction to the Switzerland – Zurich Airport
Mumbai to Switzerland airfares
List of airlines
FAQ
Introduction to the Mumbai airport – Chhatrapati Sivaji Maharaj International Airport
Previously named Sahar airport, the Mumbai airport is now called Chhatrapati Sivaji Maharaj International Airport. Firstly, I would like to tell you that this is the second busiest airport in India. Not only that but it was also the 14th busiest airport in Asia and also the 41st busiest airport in the world in 2019. It was awarded the World's best airport at Airport Service Quality awards in 2017. It has received much more awards that are not sufficient to fit into this blog! The airport has two terminals and manages about 950 flights every day. Terminal 1 at Santacruz is used for domestic flights. The 2nd Terminal at Sahar handles both international and domestic flights. Terminal 1 was formerly called the Santacruz airport and then renamed Terminal 1 later. Finally, the airport has taxis that can be used to have a hassle-free ride to your required destination.
Also read: Top 10 Flims Shot in Switzerland – Re-live the magical movie moments
Introduction to the Switzerland Airport – Zurich Airport
The airport in Switzerland is called Zurich Airport. Zurich is the largest city in Switzerland. It is the largest international airport there. It is situated 13 kilometres north of Central Zurich. There are 3 terminals – A, B and E. Terminal A is used for domestic flights and flights inside the Schengen area. B terminal handles both Schengen and non-Schengen flights. E terminal handles non-Schengen international flights. The Zurich airport has three runways that are used for landings and take-offs. The ground transportation that is used in this airport are trains, buses, trams and via road. There are other amenities such as a complex named The Circle that includes a medical centre, concentration centre, shops, restaurants, offices and hotels which is under construction. When it comes to safety, the airport fire brigade looks after any fire accidents.
Mumbai to Switzerland airfares
In the first place, let us understand that flight fares are subject to change and there is no standard or fixed pricing for the flights. The prices keep changing every few hours. The number of seats keeps changing too. And the prices depend on the season and the airlines too. So, I have mentioned below the pricing for next month for 2 adults one way just for the basic understanding of what the fares would look like.
| | | | | |
| --- | --- | --- | --- | --- |
| Airlines | Departure | Arrival | Direct flight? | Fare for 2 adults one way |
| Swiss Airlines | Chhatrapati Sivaji Maharaj International Airport | Zurich Airport | Yes | Rs. 82,372 approx. |
| GoFirst | Chhatrapati Sivaji Maharaj International Airport | Zurich Airport | No | Rs. 64,667 approx. |
| Qatar Airways | Chhatrapati Sivaji Maharaj International Airport | Zurich Airport | No | Rs. 120,130 approx. |
List of airlines
Now, let us understand the airlines operating from Mumbai to Switzerland that is categorized under the following categories:
Non-stop flights – These flights are the ones that land directly at the Zurich airport without any layover (i.e. landing at a place to board another flight) in between. Swiss airlines are the only airlines that provide direct flights. They are also considered the fastest.
1 – stop flights – These flights are the flights that have one-stop before they land at the Zurich airport. Air France, Lufthansa, Vistara, Qatar Airways, Oman Air are some of the airlines that work on 1 – stop basis.
1+ – stop flights – These flights are the flights that have more than one stop before reaching the Zurich airport. KLM Royal Dutch, Air France, Vistara, Lufthansa are some of the airlines that work on 1+ stop basis.
Also read: 10 Best Cafes in Zurich, Switzerland-For the coffeeholic in you!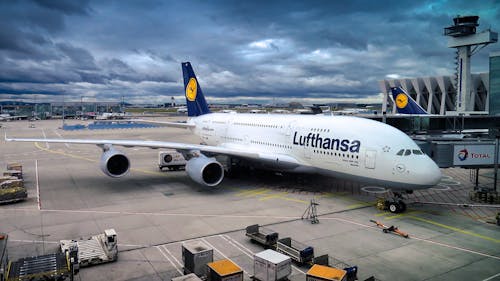 FAQ
What is the cheapest airfare from Mumbai to Swiss?
The minimum amount would be around Rs.28,000 approximately but it depends on the airline, time etc.
2. How much luggage is allowed on the flight?
Each airline has separate rules so checking with the airline directly is highly recommended. For example, Air India allows 25kg of checked baggage and 8kg of hand baggage.
3. Do people prefer economy or business class tickets?
There are people who prefer both and they are the most bought tickets.
4. If my luggage is lost at the Mumbai airport, what I can do to recover them?
Kindly register a complaint with the respective airline and provide your details and they will look into the matter accordingly.
5. How many airlines are operating currently between these two destinations?
There are 15 airlines currently operating between Mumbai and Switzerland.
Also read: 15 Things to Know about Switzerland before Travelling to Switzerland
Satisfied that you have some bit of knowledge about Mumbai to Switzerland flights? What are you waiting for? Go ahead and book your flights! Oh, wait! Before that, have you got your vacation plans fixed? If not, go to our website Pickyourtrail where we have our travel experts who will understand your requirements and will curate a plan according to your needs! I wish you a happy vacation to Switzerland!