Australia is not only home to mesmerising natural wonders and human-made marvels, but also some of the best holiday resorts in the world. The exquisite resorts are a change from the cliched hotels and apartments. You're guaranteed to have the best memories of your lives here. 
Top holiday resorts in Australia
Retreat at Wisemans
When in Sydney, nobody would want to miss out the perfect retreat that is only an hour away from Sydney CBD. Retreat at Wisemans is a paradise of tranquillity wrapped by four national parks. This four-star property offers much more than conferences, business meetings and special events. It is a beautiful place for the newlyweds where you can exchange the vows once again. Are you wondering? The property is a perfect romantic destination for a wedding located on the banks of Hawkesbury River. 
Where : 5564 Old Northern Rd, Wisemans Ferry NSW 2775, Australia
What's special : Riverbend restaurant and Sunday lunch with best Jazz musicians in Australia.
Tariff: INR 6,800 to INR 10,200
Trackers Mountain Lodge
If you are someone who loves mountains over beaches, then Trackers Mountain Lodge is your place to be. This famous ski resort is located in the middle of Falls Creek Village, and it provides immense comfort blended with all facilities of a hotel. Apart from the stay, the culinary experience at the lodge is also excellent hearty service.
Where : 16 Schuss St, Falls Creek VIC 3699, Australia
What's Special: Spa,Wines, Sauna and Ski Facilities
Tariff: INR 15000 to INR 19000
Orpheus Island Resort 
To indulge in pure luxury, a stay at Orpheus Island Resort is a must. Located in the heart of the great barrier reef, the resort is pure bliss and true escapism for people who want a serene atmosphere. Get transported by a helicopter to experience this tropical beauty adorned with spectacular views. For a complete feel, indulge in the gourmet dining of the resort. For those who want a more low-key accommodation, go for a camping option to sleep beneath the blanket of stars.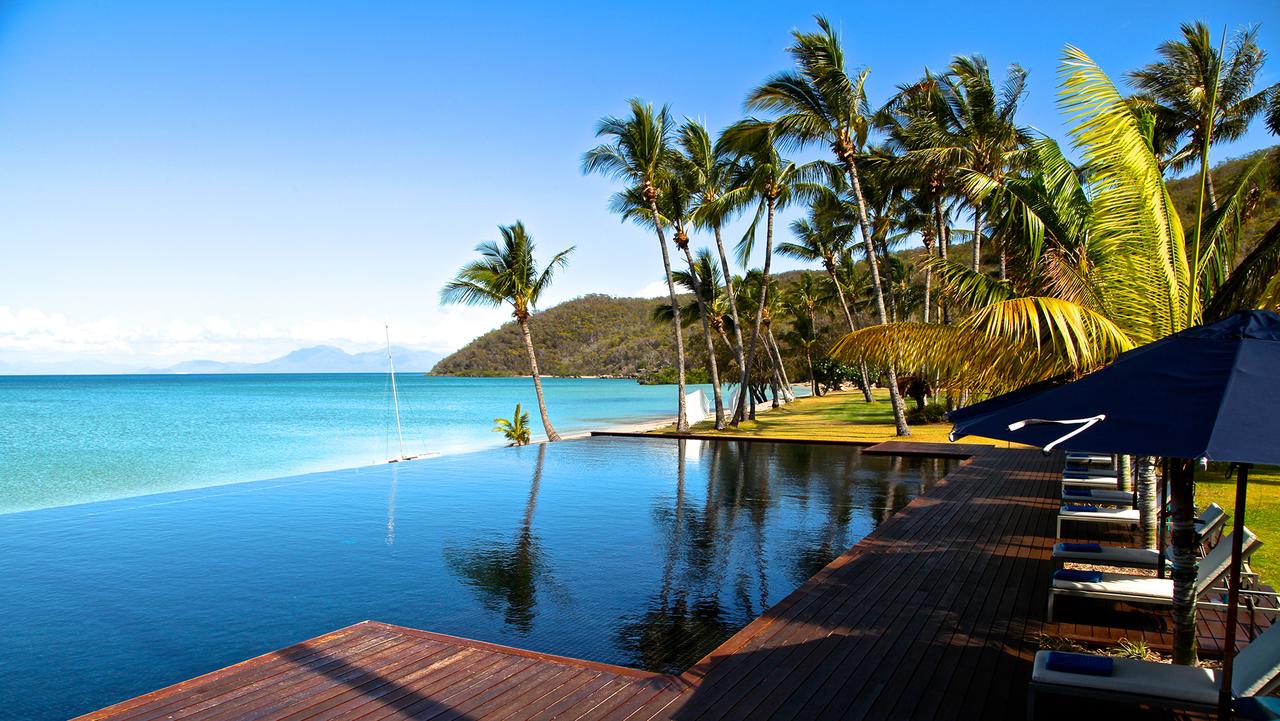 Where : Orpheus Island Lodge, Palm Island QLD 4805, Australia
What's special : Helicopter flight, private dinner, scuba diving and snorkelling 
Tariff: INR 9000 to INR 14000
Palm Bay Resort 
With a blend of Balinese style, the Palm bay Resort is embedded in the neck of the Long Island. It is a very secluded private cove adorned with villas that offer beautiful views of the Whitsunday Passage and the Coral Sea. The unique idea of the resort's self-catering gives freedom and flexibility to the visitors. The resort can be easily accessed by water taxi from Hamilton Island or Shute Harbour.
Where : Long Island Reef, Whitsundays QLD 4741, Australia
What's Special: Air Whitsundays Panorama Tour, snorkeling, fishing, and kayaking
Tariff: INR 9,000 to INR 14,000
The Canopy Treehouses
Have you ever dreamt staying in treehouses? Fulfil your dream during your vacation to Australia at these boutique treehouses set in hundreds of acres of pristine ancient rainforest. The treehouse is entirely eco-friendly, and it is the best opportunity to reconnect your souls with nature. The Canopy Treehouses are nestled on the banks of Ithaca River. You can also experience balcony BBQ with your loved ones. On the whole, it is a perfect combination of comfort and thrill in the wilderness.
Where : 247 Hogan Rd, Tarzali QLD 4885, Australia
What's special : Rare species like Tree Kangaroos Platypus and Cassowaries can be spotted in the early morning from balcony 
Tariff: INR 11,000 to INR 17,000
Broome Beach Resort 
Broome Beach Resort will never fail to spark the thalassophile in you with its mesmerizing views of the Cable Beach. The wide range of apartments here have all facilities that offer a relaxing retreat to all the visitors. The apartments are ideally situated amid lush tropical gardens. This destination will be an ideal getaway for the weekend.  
Where : 4 Murray Rd, Cable Beach WA 6726, Australia
What's Special: Barbeque facility, solar-heated swimming pool, and gazebo dining.
Tariff: INR 6,000 to INR 15,000
Silky Oaks Lodge 
Silky Oaks Lodge excels in offering luxury boutique eco-lodges above the turquoise waters of the Mossman River, entangled by the lush Daintree Rainforest masking the steep mountains. The tranquillity you seek at Silky Oaks lodge will be as high as the canopy itself. Another unique feature of the property is the dining in the open-air treehouse restaurant. Enjoy fine cuisine of contemporary Australian style with an extraordinary backdrop. There are several options to explore the diversity of its surrounding region. 
Where : Finlayvale Road, Mossman QLD 4873, Australia
What's special : The Healing Water Spa, the complimentary canoeing and snorkeling facilities, and mountain biking for a quick ride to the Mossman River
Tariff: INR 16,000 to INR 30,000
Longitude 131 
Longitude 131 is the most expensive and most celebrated luxury camp. The sixteen tented pavilions are scattered across red-dust along the Central Desert offering direct views of Uluru. It is a perfect blend of heritage and glamour together with indigenous artworks. It is the only place to admire the charm of Ayers Rock without lifting your head from the pillow. Is there something more refreshing than this in the Simpson Desert? Luxury dining and the rejuvenating Kinara makes the stay at Longitude 131 an unbeatable experience. 
Where : Yulara Drive, Yulara NT 0872, Australia
What's special : Visit the King's Canyon, Harley-Davidson bike ride, and bush tucker tour
Tariff: INR 50,000 to INR 56,000, inclusive of dining, open bar, in-suite bar, signature experiences and return Ayers Rock Airport transfers.
Echoes Boutique Hotel & Restaurant 
Just 90 minutes from Sydney CBD, Echoes Boutique Hotel and Restaurant offers excellent luxury and stunning scenic views from every room. The hotel is nestled at the edge of Jamison Valley at Echo Point in the breathtaking Blue Mountains. Every visitor is guaranteed dramatic panoramas with abundant wildlife right at their doorstep. 
Where : 3 Lilianfels Ave, Katoomba NSW 2780, Australia
What's Special: A single pass for 3 days to experience the steepest railway, skyway, walkway, and cableway through the Blue Mountains
Tariff: INR 14,000 to INR 30,700
Palazzo Versace 
Last but not least, Palazzo Versace in Gold Coast offers an ultimate experience. It is awarded as the best resort in Australia at a national event. The ambience of the property reflects vibrant colours and interiors of Versace style. It has a private marina and a lagoon especially designed for couples.
Where: 94 Sea world Dr, Main Beach QLD 4217, Australia
What's special: Three award-winning restaurants, Aurora Spa Retreat
Tariff: INR 19000 to INR 22000
Staying at these best holiday resorts in Australia is something one must not miss. So, pack your bags and embark on your dream vacation to Australia. Are you looking to get inspired? Check out the customized Australia tour packages.