Is the month of September the ideal time to visit Iceland? Maybe. Is it true that you can see and do everything? No. This is due to the fact that Iceland has much more to offer tourists than ice sheets and snowfalls. All you have to do is visit Iceland at the correct time of year to appreciate the country's unique natural beauty. However, September is as near as it comes to being the greatest month to visit Iceland. Let Pickyourtrail help you out with: Iceland in September – A Guide. Discover the reason for this!
Key Facts – Iceland in September
There are 12–14 hours of daylight each day.
The northern lights may be seen.
It's starting to feel like winter outside. Temperatures ranged from –2°C (28°F) to 5°C (40°F).
Although the roads are typically clear of snow, some snow may be falling on the slopes.
On the glaciers, you can go snowmobiling (and see a lot of snow).
Also Read: Beautiful Beaches in Iceland
Weather in Iceland in September
Visiting Iceland during the first few weeks of September will provide you with significantly milder temperatures than normal. If it is not cloudy, you will be able to experience the warm sun for at least 5-6 hours of the day. During September, the average maximum temperature is 11°C (53°F) and the average lowest temperature is approximately 6°C (44°F). The wind chill, on the other hand, will make you feel cooler. There are days when it is sunny and days when it is overcast. Even if there are little prospects for heavy rain in September, don't be shocked if it happens.
September in Iceland is significantly less busy, which means you may find more cheap lodging and private transportation. As a result, the weather in Iceland in September is ideal for a lovely journey to the nation.
Also Read: Reasons to visit Iceland
What to wear in Iceland in September
You should bring layers to Iceland at any time of year to be prepared for the unpredictable weather. If you want to visit Iceland at any time of the year, you will need to pack many layers of winter clothes in order to be prepared for the country's often-unpredictable weather. Layer your body with long-sleeved t-shirts or sweaters.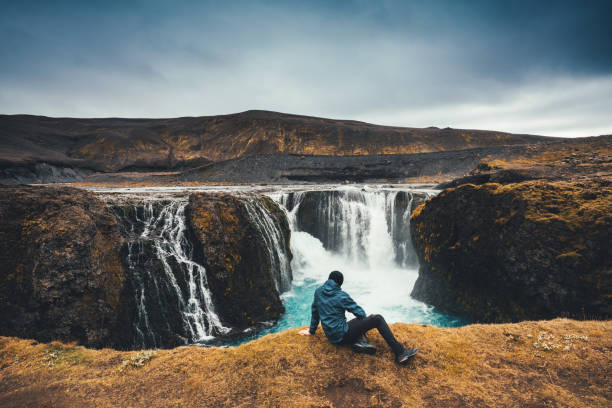 Waterproof hiking shoes or boots, a waterproof jacket (and ideally pants), a swimsuit for the various hot springs and warm swimming pools, and sunglasses are also necessary (the sun is often low).
Road Conditions in September
Except for the highlands and central mountains, most of Iceland's highways are open in September. The ice melts due to the mild weather, allowing access to most of the sites you wish to visit, including Westfjords and Reykjavik. When visitors visit Iceland in September, these are the two locations that they most want to visit.
It's the final month that travellers may safely visit the Westfjords, not just because the roads are open and clear. When you're in Iceland, it's crucial to keep an eye on the road conditions every day. Because of the unexpected and difficult terrain across the nation, it is suggested that you always pick a four-wheeler card while travelling throughout the country.
Also Read: Best Places to eat in Iceland
4 Best things to do in Iceland in September
Drive To The Snæfellsnes Peninsula
Watch Northern Lights
Go Hiking On Langjökull Glacier
Visit Hraunfossar Waterfall
1. Drive To The Snæfellsnes Peninsula
When visiting Iceland's Snfellsnes Peninsula, there is enough to see and do. You'll need at least a few hours to properly explore the region, which includes volcanic craters, lava fields, glaciers, waterfalls, and hot springs. The first snowfall of the season will fall at this period, covering the high summits. You may rent a vehicle and drive yourself to the Snfellsnes Peninsula, or you can pay for a guided trip from Reykjavik. It is advised that you stay at least one or two days for a memorable trip.
2. Watch Northern Lights
Travel to Reykjavik and then join a guided tour of one of Iceland's charming communities to witness the natural phenomena up close. Cabins may be found all across Iceland, notably on the outskirts of Reykjavik and the Westfjords. As night falls, relax on your balcony and take in the spectacular Northern Lights while snapping some incredible photos.
Also Read: Northern Lights
3. Go Hiking On Langjökull Glacier
In the Langjökull glacier near the Husafell, snowmobiling is possible all year. This is the ideal place to go if you want to get a genuine winter experience. Because of the warm temperature, the ice caves are not advised for exploration in September. However, if you want to, you may still look at them. Keep in mind, though, that snowmobiling is expensive, which is why you should consider other options.
4. Visit Hraunfossar Waterfall
The Hraunfossar Waterfall, one of the most popular autumn attractions, is particularly lovely at this time of year. The green vegetation all surrounding the falls becomes orange, and clear waters pour down from the mountains, providing a mesmerising scene for the guests. There are several vantage locations from which to observe the waterfall. The Langjökull glacier is also close by, which is why you should visit.
---
That's all I've got for now. I hope the content was really helpful. Are you planning a trip to Iceland? Take a look at these incredible Iceland Packages that have been hand-picked particularly for you. Do you want to learn more about your Plans and personalise them? Allow Pickyourtrail to assist you in planning your holiday. See you soon. Keep an eye out for more.