If you are planning to visit the famous Kullu and Manali, then you definitely can't make a choice to skip the Rohtang Pass. Majestic Himalayas, pristine white snows, hot beverage at the freezing cold weather, people playing with snowballs, an altitude of above 3900 meters above sea-level; Well, all these beautifully represents the picturesque Rohtang Pass. For people who wanted to explore snow and fall on nature's feet, Rohtang Pass is a perfect place for your vacation. A place filled with beautiful attractions is waiting to be discovered by tourists from all over the world. Haven't discovered yet? Well, you can't miss this experience. Excited to know more about Rohtang Pass? Keep reading to discover this beauty.
Does the image look's familiar? Seen it somewhere? Wondering where? If you are a fan of Bollywood, you must have definitely spotted this place on the screens. Rohtang Pass also made its screen presence in movies such as Yeh Jawani Hai Deewani, Jab We Met, Highway and the list goes on. When all these movie stars couldn't miss this beauty, why should you? Find out more about this place and on what more does it holds to excite you.
How to reach Rohtang Pass?
The nearest airport is located at a distance of 101.4 km away from the Rohtang la Pass in Bhuntar. It is a spell-binding route through which every nature lover would love to travel. It will take almost 4 hours to reach the pass from Bhuntur. Kullu is 10 km away from Bhuntur and Manali is 50 km away from Bhuntur. So, it should be easy to find a mode of transport from these places. You can also choose the costliest ride by taking a taxi directly from the airport or can make it cheaper by moving on with different buses.
Best time to reach Rohtang Pass
The best time to visit is between the months of May and October. Wanted to make it through bike? For bikers, August becomes the perfect month which gives you a great ride through the roads. You will also find a demand for hotels as this is the peak season and it will be filled with tourists. So it's advisable to start planning at the earliest.
Things to do at Rohtang Pass
Well, here comes the major part you have been looking for. Here are the seven best things you should never miss doing at Rohtang Pass. Choose your favourite!
1.Mountain Biking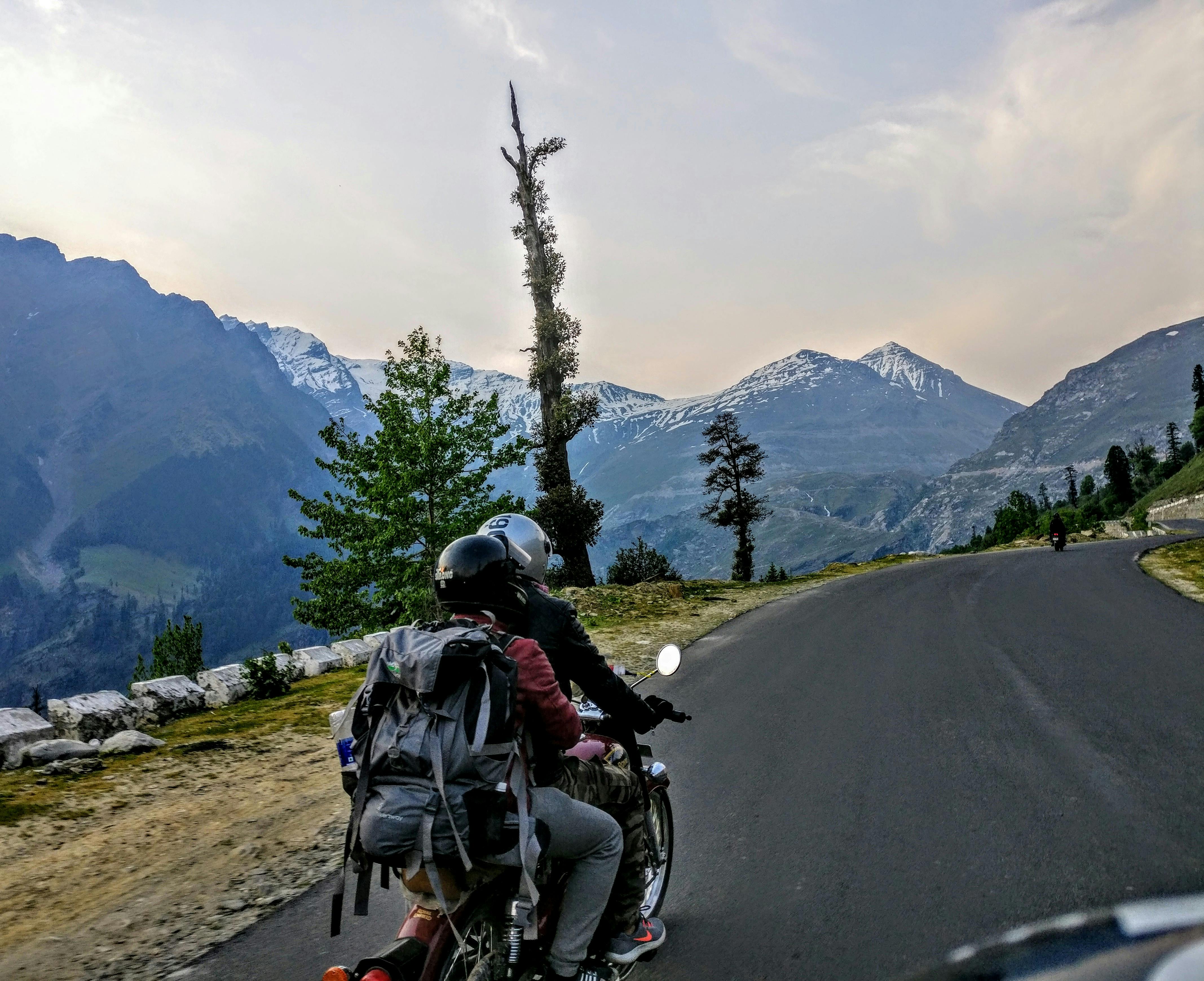 Love riding it through bikes? If yes, you should definitely not miss this magnificent driving path which takes you to the pass. The difficult paths will always lead you to a beautiful destination. You will be able to get an adventurous feeling with breathtaking views.
2.Trekking
challenging trails, lovely glaciers, snow-capped mountain peaks, splendid views it perfect for trekking. One of the best experience which every tourist should be trying is trekking in Rohtang pass. You can try trek routes such as Batal to Rohtang, Gulaba to Bhrigu Lake, Rohtang and Jalori pass and Manali-Lahaul pass for the best trekking experiences.
3. Photography
How can you not capture this phenomenal beauty on your camera lens? That's completely impossible, right?. This place serves the best for photographic lovers. So never forget to get your camera on-board. You will definitely curse yourself if you don't take your camera to capture this beauty.
4.Skiing and tyre drop
You can never miss the most famous activity in Rohtang Pass. And never worry about the equipment as you can purchase it at the nearby shops available.
5.Sledge rides
Without Sledge rides your trip is always incomplete. Get yourself indulged in the sledge riding on the snow in the wooden toboggan. What can be more exciting than doing sledge rides? Feel like a kid and get that snow on your face. Nothing can match the enjoyment of playing in the snow. So why miss that enjoyment?
6.Paragliding
Paragliding is definitely not to be missed. Flying over the snow-capped mountains just like a bird is a splendid experience. You will feel the fresh air on your face with warm love.
7.Snow scooter riding
Get your fellas on board and bring the race on! Snow scooter riding is the coolest and an adventurous thing to do in Rohtang Pass. The thrill is unmatchable and competing with your friends would be an experience not to be missed.
Rohtang Pass permit
Well, you will need a special permit to cross the pass. The Himachal Tourism website allows you to apply for the pass-through online and is valid for 24 hours. The government doesn't provide an unlimited number of passes and provides a limited number of passes every day. So, ensure you plan your trip in advance to get the passes.
The following documents are required to apply for the permit.
A pollution check certificate for your vehicle
Vehicle registration documents which show the registration date
Places to stay in and near Rohtang Pass
1.Highland Park
Highland Park resort is Manali's best resort fallen in nature's laps. Just 4km from Manali, this resort is spread across 8000 square yards. The aromatic apple orchards, coniferous forests make the Highland Park even more attractive.
2.The Orchid Inn
Located at a distance of 9km away from the Rohtang pass, the comfortable inn is best -renowned for its affordable room rates. You will find staffs 24/7 to who are ready to make your experience seamless. Best amenities, stunning views at a reasonable cost. Can't get any better, right?
3.Burua Valley Retreat
Located at a distance of 9.5 km away from the pass, Burua Valley Retreat is another resort which comes with affordable price. The hotel is completely smoke-free with lovely decor which will make you feel very comfortable.
Tips you should be knowing before visiting Rohtang Pass ?
It is important to take care of your health as altitude sickness is very common here. Pack some necessary medications to avoid such cases.
It is advisable to travel to and fro during the daylight since the roads might be tricky during the night time.
Make sure you wear appropriate clothes to survive the cold.
It is advisable to buy snow clothes, skiing and other equipment only from government certified authorised dealers.
Start your day early and plan in such a way where you have extra time too. It is very common to get stuck for hours on the road due to heavy tourist traffic.
Hope Rohtang Pass has excited you. The real excitement and enjoyment fall when you witness this splendid place for real. You can never find such a location in India which will awe you every moment. Guaranteed goosebumps! Well, you will have goosebumps moments not only because of the cold but also for its mindblowing views. Never miss the chance to visit this beautiful place. Take a step forward and check out Pickyourtrail website for more amazing travel packages to Himachal Pradesh. Also never forget to check out our coolest mobile App. You can also follow our page for more interesting contents on travel and get ready to discover the undiscovered!
Note: The images that are being published here are the author's choice, and the organisation takes no responsibility for their usability.