Planning to visit Sri Lanka in January?
The very first trip might be added after New Year to your Vacay list! You'll plan your Sri Lanka tour despite any weather conditions since you still have options to modify your outings to the northeast or southwest within the country consistent with the weather. Being a Tropical region Sri Lanka within the north of the Island and east coast of the country is pretty wet in January. So it's better to plan for the southern and western parts and unwind within the magnificent beaches.
Also read: Best time to visit Sri Lanka : complete 12 month weather guide
Crowds and costs
The great beach weather in January attracts many tourists to Sri Lanka. Well, vacations in the northern region would be temporarily over in January, with High chances of gathering more crowds within the southern part, So it's better to book accommodation beforehand especially within the Island's popular beach areas.
Where to go in January?
Colombo – Capital of Sri Lanka
Adam's peak | Sri Pada
Yala National Park
Galle
Dambulla
1. Colombo
Being the commercial capital of the country, It's Sri Lanka's one among the foremost tourist destination. The coastal city might be an elegant place to spend a couple of days just relaxing and experiencing the local culture, indulging in the local food, and leisure activities. It's a reasonably good collection of attractions to serve just this purpose, Just like the Galle Face Green, the Beira Lake, and therefore the Viharamahadevi Park, which are popular places for picnics and also for you to spend some quality time together with your friends, families and loved ones.
2. Adam's Peak | Sri Pada
It is a 7359 feet Mountain located in central Sri Lanka, It is divinely known for Sri pada resembling (sacred footprint) 5 ft 11 m that is considered because of the footprint of Buddha for Buddhist, Shiva known for Hindus and Adam known for Muslims and Christians. It is one of the foremost visited pilgrimage sites in Sri Lanka with a natural landmark within the outer part of Hatton. The pilgrimage season begins on Poya day as full moon day in December and runs through to April – the beginning of the southwest monsoon.
At a certain period of the year, it is not possible to climb. It's been said night walk is the finest way to expend some of your time on Adam's Peak, arriving in time for sunrise the views are absolutely breathtaking, As the Hill-start rising to the east, while to the west the land tenderly declines toward the Indian Ocean. Shortly after the beginning of morning twilight keep an eye fixed out for the vast shadow of the mountain cast against the sky, which gives once in a lifetime experience.
3. Yala National Park
If you're an animal lover and searching for a few of the best experiences in Sri Lanka in January don't miss an opportunity to explore the wildlife sanctuaries, The foremost famous among them is Yala National Park. You could take a wildlife safari to ascertain the Sri Lankan Elephants, Sri Lankan Leopards, Aquatic birds, Magul Maha Viharaya, and also Sithulpawwa are some of the ancient rock pilgrim sites.
Also read : Best things to do in Sri Lanka for Adventure Junkies
4. Galle
Being the historic city of Sri Lanka locating in the southern coastal area mainly famous for its Portuguese heritage and Dutch colonial buildings. one among the foremost preferred tourist's places in Galle comprises, Churches, Mosques, Historical Buildings, and Museums, The admirable city of Galle was founded by the Portuguese in the sixteenth century, and you will find the city embracing its ancient heritage in every corner. You can even continue on boat trips in the Indian ocean you may be able to spot humpback whales, dolphins, blue whales, corals reefs and other marine species.
5. Dambulla
Dambulla cave temple also referred to as (The Golden Temple) in Sri Lanka is a UNESCO World Heritage Site dating back to the first century. Dambulla Consists of one of the greatest preserved cave temples in Sri Lanka. The remaining five main caves have exquisite paintings and delightful statues. If you're a person who's trying to find ancient sculptures and paintings, monuments then it's a must-visit place to explore the ancient era and vibe.
Also Read : 10 Best places to visit in Sri Lanka
Where to Stay in Sri Lanka in January?
There are multiple high rated 4-5 star properties where you can discover luxurious and exotic hospitality services, some of the best scenic views that have ever seen before.
Sigiriana Resort by Thilanka
Arangala forest lodge
Heritance Kandalama
1. Sigiriana Resort by Thilanka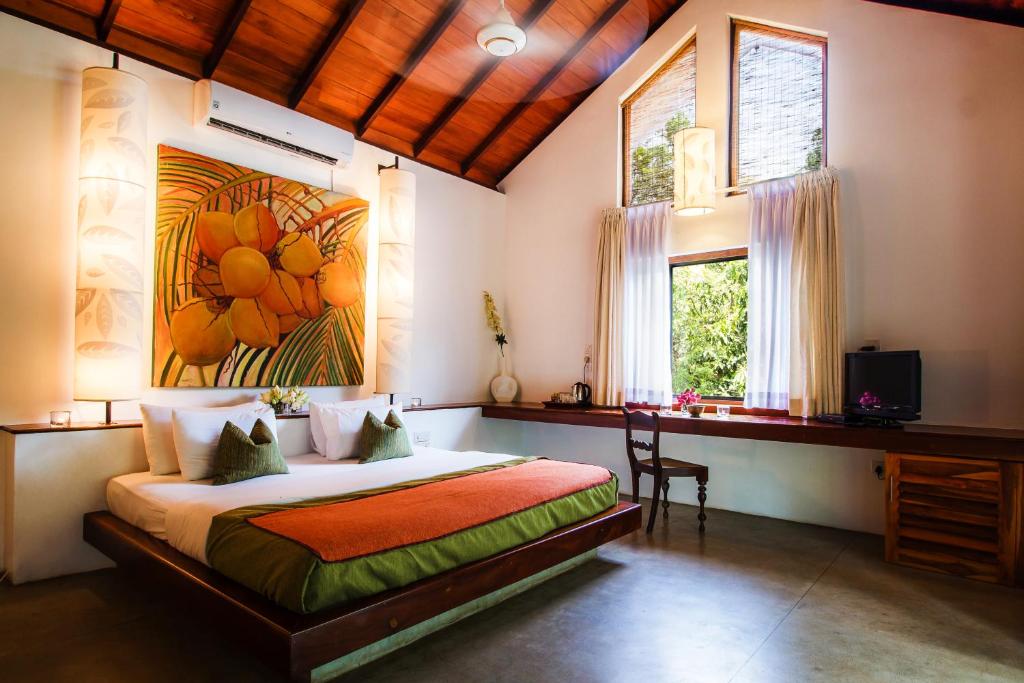 If you're looking for a 4-star property then Sigiriana Resort is highly recommended for you. Consisting Luxurious Deluxe rooms with Orchard view best suited for couples. Resort rooms feature colourful murals and private balconies with views of the surrounding greenery. Each room has a safety deposit box and free coffee/tea. The bathroom is fitted with a spa bathtub. Visitors can enjoy relaxing massages at Ayurveda Spa, which also provides yoga and steam baths.
2. Arangala forest lodge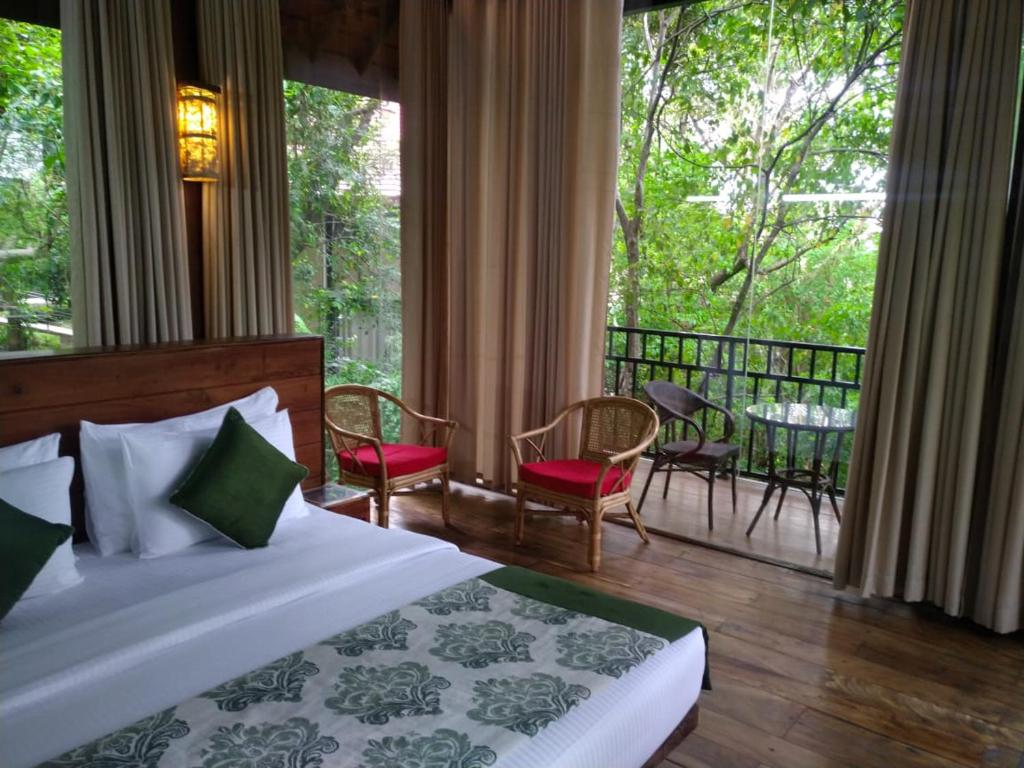 Arangala Forest Lodge has a restaurant, outdoor swimming pool, a bar and a shared lounge in Naula. With a garden, the 4-star hotel has air-conditioned rooms with free WiFi, each with a private bathroom. The accommodation offers evening entertainment and a 24-hour front desk. At the hotel, every room includes a balcony with a scenic mountain view.
Location : arangala, naula, 21090 Naula, Sri Lanka
3. Heritance Kandalama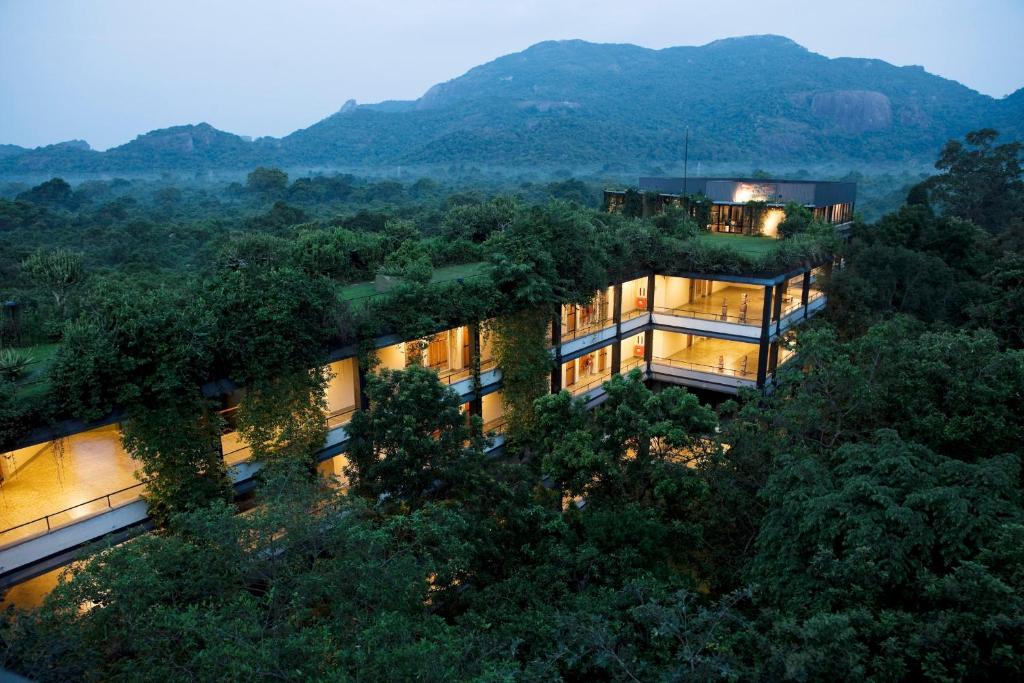 Start the day with breakfast on the lake or enjoy a memorable dining experience in the nearby cave. A tranquil retreat perched on hills. Boasting spectacular architecture, this unique design hotel provides 3 impressive pools and exotic activities. The spacious rooms are fitted with rattan furniture. Each comes with a private bathroom featuring oversized glass walls that allow much natural light in.
Location ; Heritance Kandalama, 21100 Sigiriya, Sri Lanka
Also read : Best Hotels & Resorts In Sri Lanka