Andaman is beautiful everywhere you turn to, which you will miss if you blink. And that does not stop with the sun, the sand and the sea. With abundant coral beauty, rich and complex ecosystem, not to mention the favourable atmospheric conditions make Andaman synonymous with adventure. Because, where would you go for adventure fix that also comes with a good dose of nature and serenity? Of course Andaman.
From catching colourful coral reefs in action to spotting mind-bending marine life in its habitat, take a look at the best snorkelling spots to let your adventure spirit loose in Andaman.
Best spots to snorkel in Andaman
1. Swaraj Dweep
January to May is generally regarded as the best time to snorkel in Andaman, and the sea is said to be at its calmest during this period. Havelock Island is part of Swaraj Dweep, Ritchie's Archipelago, and is known for popular snorkelling spots like Elephant beach and Radhanagar Beach. Here the reef starts as soon as you step inside the water from the shore and hence very suitable for beginners and first-time divers.
2. Neil Island
Apart from taking you on a close tryst with marine life away from the crowds, Neil Island is the best spot to snorkel in Andaman if you are confident about your swimming skills and interested in having pretty much the entire area to yourself. Unlike Havelock Island, the coral reefs are found slightly farther and deeper, so it is better to take a guide along with you and adhere to his/her instruction.
Also read: Trekking in Andaman — Amazing treks to explore the wilderness of Andaman
3. Tamarind Camp
Tamarind Camp is an uninhabited island in Andaman where you can snorkel but cannot explore the island on foot. You will find a lot of exotic creatures here, and all the more, you can do more than snorkelling here. You can try kayaking in the nearby mangrove creeks, or stick to snorkelling and spot exhilarating marine life. Watch out for jellyfishes, they are found in abundance here.
4. South Button
Easily accessible from the popular Havelock island, South Button is one of the best spots to snorkel in Andaman, again, if you can swim well and have some snorkelling experience beforehand. Because you need to go farther from the shore to spot corals, and you will totally love it. Test your adventure spirits by surfing, if you are a fan of the activity.
5. Red Skin Island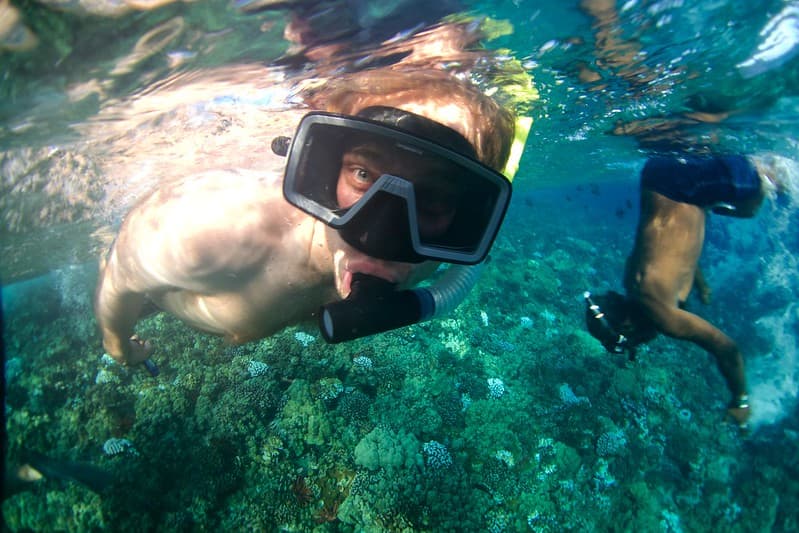 With stunning views to keep company from above and beneath, Red Skin island is famous for its crystal clear water and towering coconut trees. Grab your masks and take a dip, or if you want to bench adventure for a while, sign up for a glass-bottom boat ride. Spot awe-inspiring marine creatures by cruising on a boat with a transparent bottom.
From daredevil adventurers to humble beginners, there is a snorkelling place for every traveller in Andaman, making it one of the top hotspots for snorkelling in India. Pursue adventure in Andaman, pursue life.
---
You may also like: Nightlife in Andaman — Coolest things to do in Andaman at night
Note: The images that are being published here are the author's choice, and the organisation takes no responsibility for their usability.