Turkey is a country capable of diverse things ranging from being the largest cherry producer in the world to producing unique handmade products. Having a population of over 83.61 million, Turkey takes pride in being able to offer people something unique. As in, in terms of adventure or food or culture or anything for that matter. Turkey is surrounded by countries such as Greece, Bulgaria, Georgia, Armenia, Azerbaijan, Iran, Iraq, Syria. It is a house to various mosques, palaces, museums and a lot more! Coming to Kabak Bay, as the title suggests, is an offbeat place in Turkey in the Fethiye area. It is slowly attracting people to its magnificent beach, the blue sea. And to that, we can stay at mini-hotels and bungalows! We can camp there too! Let's look at Kabak Bay in detail which I promise will be enticing by the end! Let's start!
All you need to know about Kabak Bay
Where exactly Kabak Bay is?
What are the specialities of Kabak Bay?
How to reach Kabak Bay?
Best time to visit?
Where do we actually stay?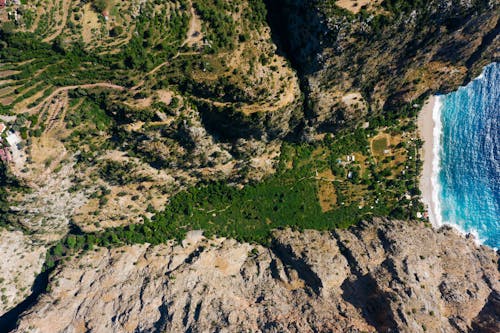 Where exactly Kabak Bay is?
In this paragraph, I will be explaining where Kabak Bay is located in Turkey and more about that area. Firstly, Kabak Bay has located 32 km from Fethiye city in Turkey. Now, let me talk about Fethiye which was formerly known as Makri. It is one of the popular tourist destinations in Turkey. Summer is the most preferred season to go to Fethiye. And about the weather there, the summers here are very hot, long and dry. The winters are cool and rainy. Secondly, let me talk about the many wonderful places to visit in Fethiye. Among those are Calis Beach, Yeni Etap Hiking Trail, Cordon Fethiye, Old Town Pastapur, Butterfly Valley, Oludeniz Resort, Lycian Way and so much more. The public transportation used there mainly is a minibus and is called dolmus. Finally, about the population, in 2019, there were 162,686 people in Fethiye.
Also read: Best Restaurants In Turkey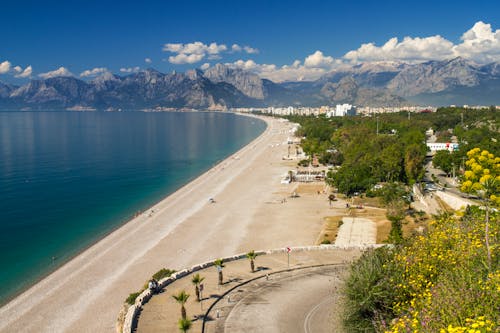 What are the specialities of Kabak Bay?
In this paragraph, we will dive into deeper details into what Kabak Bay has to offer us! The beach offers us a once-in-a-lifetime opportunity of living a fairytale life! To the south of Butterfly valley, we have this crystalline beauty. It doesn't fail to amaze us with its nature, wildlife, serenity and treehouses! Kabak Bay is considered a rare and untouched piece of creation where it feels like living with nature itself! Aladere Falls is something we should not miss here! How can we miss the stars decorating the sky at night? Not only at Kabak Bay, but its vicinity is also a visit to die for! Wondering whether any falls are there? Worry not because there is a Pamukkale falls at Dalaman district not so far from Fethiye!
How to reach Kabak Bay?
So, I will be explaining now about the types of transport that can be used to reach Kabak Bay. We can use either public or private transport to reach the destination. After reaching Oludeniz village, we can take a taxi or minibuses to Kabak Bay if we want public transport. In case we need private transport, we can take a car and drive to the Bay. But a few precautions to people going by a private car- the car must be driven slowly as the roads have loose dirt and steep rocks which make the ride to the Bay a bit difficult. Two-wheelers can actually go with ease but it is a bit difficult for cars. But no need to worry, with precautions in place, this ride can be a memorable one too!
Also read: Turkey's oldest tradeshow – Izmir International Fair
Best time to visit?
This paragraph will be talking about the best time to travel and basically the weather at Kabak Bay. The Bay is visited all around the year but the peak season is between June and September. These are the hottest days which makes it the best time to visit Kabak Bay. The temperature ranges from 24-34 degrees Celsius. The nights here are so heartwarming where valuable nights can be spent here! To those people who prefer fewer people crowding there, the best time would be during early autumn and late spring. The temperature ranges from 19 degrees in April and 23 degrees in October. To those people preferring winter, it starts from November to March. These months are generally rainy but these days can be enjoyed immensely!
Where do we actually stay?
Accommodations, yes these are the ones we will be dealing with right now in this paragraph. There are two places – mountain slopes and the valley floor. On the mountains, travellers can take a rest there and escape the heat and get a breeze there. From that point, the whole valley is visible with such a beautiful view! These areas are more secluded and quieter and chiller to enjoy the nights there! The other type of accommodation is the valley accommodation! We have direct access to the beach and is easy. For people who love to be more social, this accommodation would be the perfect one! Because this is not as secluded as the mountains. Tree bungalows are also available but these are not recommended for people looking to have peaceful nights there as there are campgrounds there which means more noise. So, we can even camp in the forests there!
Also read: Turkey's Cappadox festival: Music, food and Fairytale charm!
Kabak Bay is calling you so that you have a mesmerizing, once-in-a-lifetime experience in one of the offbeat places in Turkey! What are you waiting for? Go on and plan your vacation! Wait, before that, I can help you with that too! Yes, visit our website Pickyourtrail where our travel experts will guide you on your vacation to Turkey so that you get to visit this beauty!!! Hesitant due to the current situation? No worries, our travel experts will have you covered on that too! Just visit our website and our travel experts will get in touch with you! Happy travelling!
Note: The images that are being published here are the author's choice, and the organisation takes no responsibility for their usability.