Sri Lanka located just below the Indian subcontinent is filled with its own hidden charms. Known for its beautiful endless beaches to lush greenery, it invites Honeymooners as well as Families, to explore the endless beauty. It is a place where an abundance of wildlife sanctuary, tea plantations, historical sites, and temples can be found. It has a fair share of good resorts and hotels that offers various cuisines to the broad spectrum of tourists coming from different nations. This vast country offers very diverse and rich flora and fauna. Read on to find about the Pinnawala Elephant Orphanage, which should definitely be part of your bucket list, if Sri Lanka is your next vacationing spot.

Also read: Perfect 5 days itinerary to Sri Lanka
Where is Pinnawala Elephant Orphanage located?
The Pinnawala Elephant Orphanage located northwest of the small town of Kegelle falls midway between the old royal residence of Kandy and the present capital city Colombo. The Kegelle town is exactly in the Sabaragamuwa Province of Sri Lanka. Pinnawala Elephant Orphanage is kind of like a nursery or an orphanage that serves as a captive breeding place for all the orphaned or unweaned wild elephants. The main aim is to nurture and incite a natural habitat for all the lost or orphaned elephants. Their daily food, as well as bath, is well taken care of by the orphanage. In 2011, it is believed that there were as many as 96 elephants with around 68 females and 43 male elephants living in the area. As of now, there are 81 elephants. The orphanage takes care of the wild elephants and protects them from wandering into the local villages where there is a risk of getting abused by the villagers.

Also read: 9 Best Places to Visit in Nuwara Eliya, Sri Lanka in 2021
History – How the age old saying goes!
It was believed that Major Thomas William Rogers, a former A. G. A. and District Judge of Badulla, was an elephant hunter who killed almost one thousand and five hundred elephants in a short span of four years. Initially, all the farmers during that time around the 1840s were glad that the Major had got rid of the big animals that caused them frequent woes by wandering into their farming lands. The Major was filled with praises by the local villagers. But, sadly one of the elephant that was killed was from the sacred area of Kataragam. An aged patriarch who lived there had warned him that a curse of a tragic death would befall on the person who brings any harm to the animal from the sacred site.
Soon, one day there was a thunderous night and the Major was stranded outside and had to immediately look for a shelter. On the way, he was hit with a flash of lightning and he fell face forwards and died on spot. On this night, 7th June 1845, Rogers was struck to death by lightning and villagers believed it was a curse brought by the killing of the mighty elephant.
Animal welfare and how well the big animals are taken care of!
All the elephants in the Pinnawala Orphanage are well taken care of by the Sri Lankan Department of Wildlife Conservation. Rarely, some elephants are given to the temples, but mostly they are taken care of here as they become dependable upon the food provided inside the nursery. You would also be glad to hear that they also give extra residential care to a few disabled elephants. One such case is a tusker Raja who is blind and the other female elephant Sama who lost her right leg in a land mine.

In case you are wondering, how the big animals are treated within, you don't have to worry! They are properly fed and bathed in regular intervals of the day. They aren't abused or put under stress. They have some 100 workers and mahouts who are trained to take care of them. There had been instances when the baby elephants fall into the pits or ravines during drought. But, they are helped and safely guided back to their resting place.

They are herded in groups daily twice for almost half a kilometer to bathe and drink water in the water source nearby. This is the main attraction for the tourists who come to visit the place. They have both International as well as local tourists from within who wait 2-3 hours for watching this scene. The elephants are mainly fed in large quantities of coconut, jackfruit, tamarind, kitul (sugar palm), and grass, brought in daily. There is not much fodder to gather from inside the premises other than grass.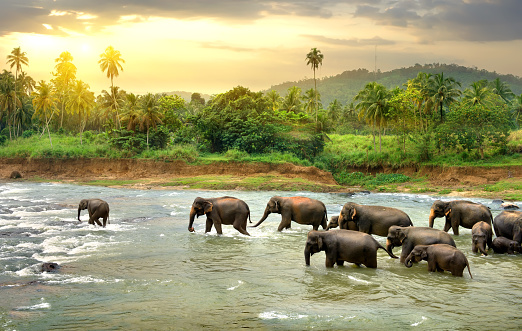 The premises and what can you expect nearby?
We have a lot of foreign tourists as well as local tourists visiting the Elephant Orphanage on a daily basis. During the pre covid times, the entry charges were 800LKR per adult for SAARC countries and 3500LKR for adults from non- SAARC nations. If you are a nature enthusiast and an animal lover you are definitely going to enjoy the place. Just make sure, you do check the timings from the locals beforehand so that you won't miss the bathing time of the animals. That is the most amazing spectacle after all. You can go pretty close to them, as close as feeding the baby elephants with milk or some fruits. Just make sure you don't annoy or taunt the animals, as we don't want them getting aggravated.

There are also small tiny streets, where you can take a stroll and find cute little shops selling gifts and handicraft stuff. You can get something for your loved ones from these boutique shops like elephant-themed keychains. They would be something like souvenirs to take back home. You also don't have to worry about getting your lunch or having food, as you have a couple of restaurants nearby. One is the Hotel Elephant View restaurant and then there is also Café Channa Pinnawala, they are all about just 1.5 km from this place and are pretty nearby.

Also read: Best Places to Visit in Sri Lanka for a memorable Vacation
Craft your upcoming vacation with PickYourTrail
Sri Lanka a must-visit, filled with amazing sites to see and marvel at its great beaches and greenery. So, we dont want you to miss this awesome place!

Check out a couple of Sri Lanka holiday packages and you can also check the Sri Lanka Guides for further info. Connect with PickYourTrail and look forward to creating a memorable vacation with your family
Note: The images that are being published here are the author's choice, and the organisation takes no responsibility for their usability.