To begin with, Sherbrooke is a merry city to explore in Eastern Townships of Quebec. It is a small city, ranking 30th in size among Canada's largest cities. This city is located at the confluence of the Saint-Francois and Magog Rivers with over a population of 160,000 people. Besides the amazing things to do in Sherbrooke, you will discover more about their culture, arts and culinary centre in the beautiful region of Quebec.
By the way, Sherbrooke in Canada is only an hour's drive from three U.S. states: Vermont, New Hampshire and Maine. New York state is only a little bit farther.
From dynamic festivals to outdoor adventures, electrifying cities to larger landscapes, the places and people of Québec wash over you. Between its intriguing history, lush parks, and museums, your stay in Sherbrooke is bound to be filled with excitement, beauty, and knowledge.
Here are a few things to do to help you experience all the beauty and excitement in Sherbrooke.
Mont Bellevue Park
Sherbrooke Nature And Science Museum
Granada Theatre
The Boquébière Micro-brewery
Uplands Cultural And Heritage Centre
Sherbrooke Museum Of Fine Arts
Fête Du Lac Des Nations
Windsor Powder Mill
Orford Express Tourist Train
La Halte Des Pèlerins
Bois Beckett Forest
Also read: Budget Road Trip in Canada.
Top things to do in Sherbrooke:
1. Mont Bellevue Park
Mont Bellevue Park – Experience the largest park in Sherbrooke! It is the home to a complex ecosystem with remarkable biodiversity in the heart of the city. Together with Alpine Ski Resort, you can also enjoy the tennis court and archery range. Here, the walking trails, cross-country ski trails, snowshoe trails and mountain bikes trails are all well maintained. A cafeteria and snack bar complement the site for a relaxing day outdoors. Mont Bellevue Park happens to be the best place to escape the hustle and bustle of town
2. Sherbrooke Nature And Science Museum
Located downtown, Sherbrooke Nature and Science Museum offers an unexpected encounter with animals in their natural state. This makes it the best place for the kids to have fun. Depending on the age of the children, there are a number of attractions of interest. To sum up, the museum features both temporary and permanent exhibitions on various themes related to nature and science.
In addition, the Museum showcases an interactive theatre featuring the complexity of the human brain! Can it get more interesting for the children?
3. Granada Theatre
Positioned downtown Sherbrooke, Granada theatre is confessed as a Canadian heritage and a historical building. This multipurpose theatre hosts a range of events and shows with a period decor presenting the fashion, banquets, conferences and launches.
4. The Boquébière Micro-brewery
Grab a taste of the local beer at the Boquébière Micro-brewery – perfect place to discover and enjoy local brews! Be it the lavender white beer, dark beer with cherries or black IPA, apple ale, Boquébière masters the market in all fronts. Known for its uniqueness and often, made using local products. In addition to this, the Boquébière collaborates with the Granada Theatre, located just in front, and receives visits from various artists, of which several are up-and-coming.
5. Uplands Cultural And Heritage Centre
The Uplands Cultural and Heritage Centre is referred to as a non-profit organisation. Generally, it is committed to preserving and supporting the cultural and heritage traditions of the Eastern Townships. Next, the warm and inviting atmosphere is a testimonial to the lifestyle of their ancestors. Also, Uplands Cultural and Heritage Centre exhibits starring works from both local and regional artists as well as concerts and art workshops eleven months in a year!
6. Sherbrooke Museum Of Fine Arts
The Musée des beaux-arts de Sherbrooke is a place for an assorted program of visual arts exhibitions and cultural activities. Its located downtown making the museum the very heart of regional cultural activities. Musée des beaux-arts de Sherbrooke serves the purpose of promoting fine arts. Generally, it also works towards collection on national and international arts and presenting artistic achievements developed elsewhere. Over the years, the Musée has become an important factor in the conservation and diffusion of the visual arts in the Eastern Townships and is known for its dynamism, professionalism, and accessibility.
7. Fête Du Lac Des Nations
Fête Du Lac Des Nations is a six-day festival that takes place every July. This features stunning fireworks, raucous music and gripping rides. Visitors will be treated to about 30 shows of various styles, presented on three stages in Sherbrooke's Jacques-Cartier park. This event is said to come up with many activities for the whole family. Furthermore, this includes inflated children's games, arts and crafts section as well as the largest mobile amusement park in the Eastern Townships! Get yourself here for some actual fun with your family.
8. Windsor Powder Mill
Get yourself to the Windsor Powder Mill to learn all about the history and making of black powder which is an essential component of explosives, like dynamite. Subsequently, it is also used as gunpowder and blasting powder for use in mining operations. With a guide acting as a foreman get to know how to make the powder all by yourself! In conclusion, after this mind-blowing experience, don't miss to visit the old factory where the life of the mill workers is depicted magnificently.
9. Orford Express Tourist Train
In the first place, the Orford Express Tourist Train is one of the finest trains in Canada. Certainly, while travelling on this glorious train, explore the magnificent Eastern Townships countryside. The countrysides link Magog, Eastman and Sherbrooke, empowering the passengers to discover the storied beauty of this part of the Eastern Townships. Above all, this train also provides an opportunity to enjoy a meal that would do justice to any first-rate dining establishment.
10. La Halte Des Pèlerins
Wine enthusiast? La Halte Des Pèlerins is typically for you. Especially, it offers unrivalled experiences throughout its commented tastings, guided tours, and entertainment. Furthermore, learn about winemaking and the vineyard's history in just an hours tour. Above all, you get to taste the delicious wine samples as well. La Halte Des Pèlerins happens to be the only vineyard in Quebec and the perfect spot for purchasing some traditional wines. In summary, enjoy the country-style pleasures, with all urban amenities here.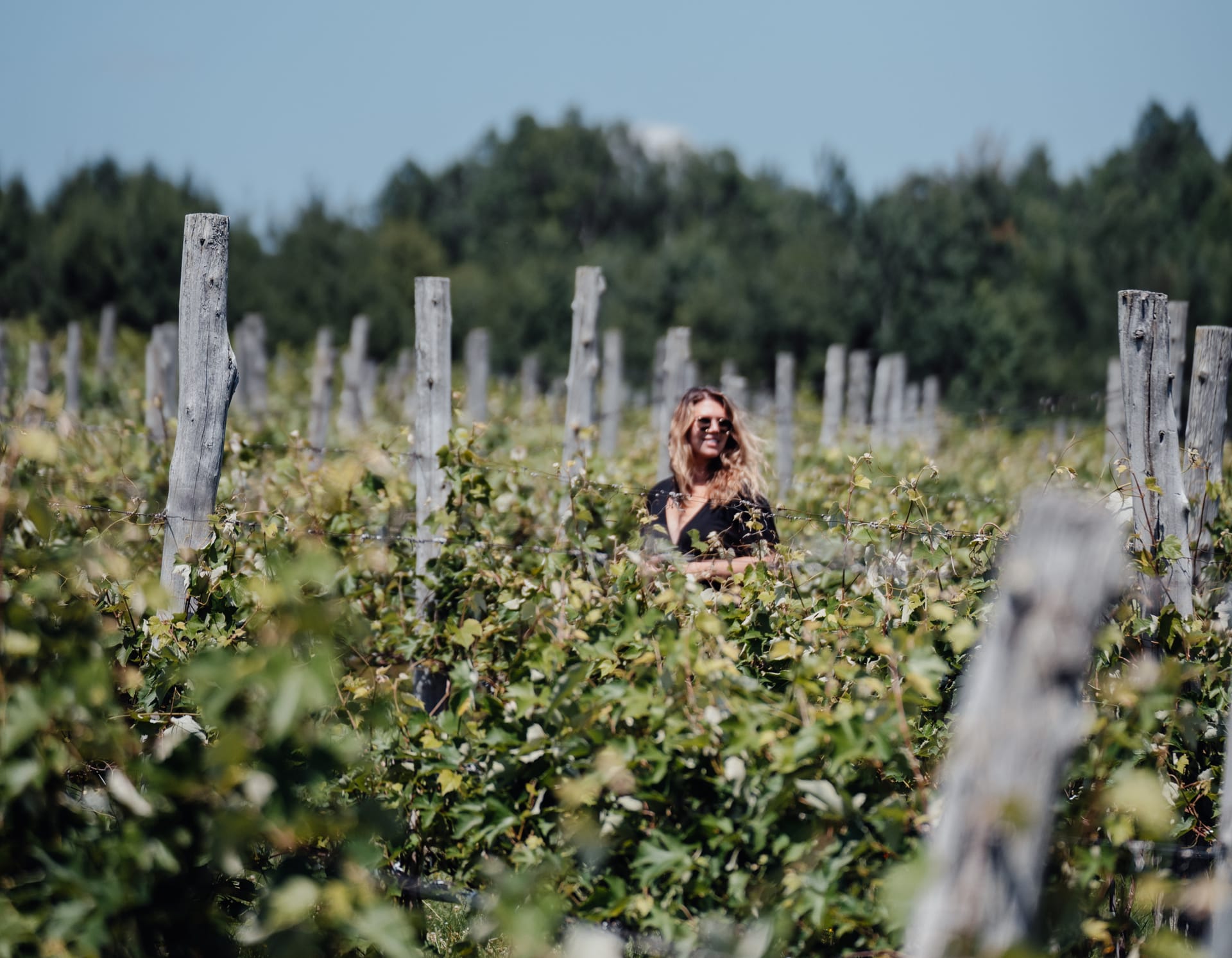 11. Bois Beckett Forest
Looking for a peaceful place for a walk or hike? Bois Beckett Forest is your choice! Besides the magnificent trees in the old-growth forest, admire the beautiful flora and fauna there. In the winter, the Bois Beckett Forest is a great place for cross-country skiing.
Hence, now you know Sherbrooke is the 'Queen of the Eastern Townships'. Call for urban places, mountains, greens, lakes or rivers, Sherbrooke provides a mix of all. With heritage sights, cultural sights and natural attractions, Sherbrooke makes it the best place for a vacation.
Overjoyed and can't wait to experience Sherbrooke? Book your customised vacation with Pickyourtrail and craft your itinerary exactly the way you want or select from various packages available online. Also, you can also drop in your query on Whatsapp and our travel experts are at your service! Alternatively, you can download Pickyourtrail app for more handy information and services.
Note: The images that are being published here are the author's choice, and the organisation takes no responsibility for their usability.