When you think of a vacation, the first thought that comes to your mind is that of a wholesome experience. Malaysia is one such place where you can expect a bit of everything from nightlife to shopping and beach hopping to natural reserves. Home to the famous Petronas Towers, Malaysia should definitely be a must-visit destination for your next vacation. The best way to experience sheer bliss during your vacation is to plan your accommodation in a beach resort. To help you with the top picks of the best beach resorts in Malaysia, we have narrowed down on a list of the perfect choices.
The renowned city of Langkawi in Malaysia has some of the most lavish beach resorts along its vast coastline. There are budget-friendly as well as luxurious properties to cater to your needs. You can get a beach resort accommodation for as low as RM 100 and experience a peaceful time in the company of your loved ones. If you are into luxury, ocean view and sea view rooms are also available for RM 3000. This will be the perfect way to spend time with your partner if you are on your honeymoon. Read on to know more and plan a tranquil getaway to the best beach resorts in Malaysia!
Best beach resorts in Malaysia
Sipadan Kapalai Dive Resort, Sipadan Island
Bunga Raya Resort, Gawa Island
Shangri-la Rasa Ria Resort, Kota Kinabalu
Casa Del Mar, Langkawi
Taaras Beach and Spa Resort, Redang
Golden Sands Resort, Batu Ferringhi
The Japamala Resort, Tiomon Island
1. Sipadan Kapalai Dive Resort, Sipadan Island
This is the perfect place to visit if you prefer a postcard-perfect holiday. Miles and miles of water will greet you as you visit Sipadan Kapalai Dive Resort on the Sipadan Island. You can go for a refreshing dip in the artificial reef or do some snorkelling. You will have to pay about RM 3400 to stay at the beach resort for a minimum of four nights. Pleasant memories of your vacation in the Maldives will come back to you as you stay at this resort because the villas are built over water making it one of the best beach resorts to visit in Malaysia.
2. Bunga Raya Resort, Gawa Island
Bunga Raya Resort on the Gawa Island is nature's own heaven. It is located off the coast of Kota Kinabalu and is surely a top pick if you love residing close to the calmness and serenity of nature. The resort has been constructed in the classic Borneo style of architecture catering to different price categories and amenities. The resort goes hand-in-hand with a jungle-like atmosphere built amidst shrubs which opens out into the vast sea in front of you. You will be thrilled to know that a Tree House accommodation is also possible at this resort making it one of the perfect beach resorts to visit in Malaysia.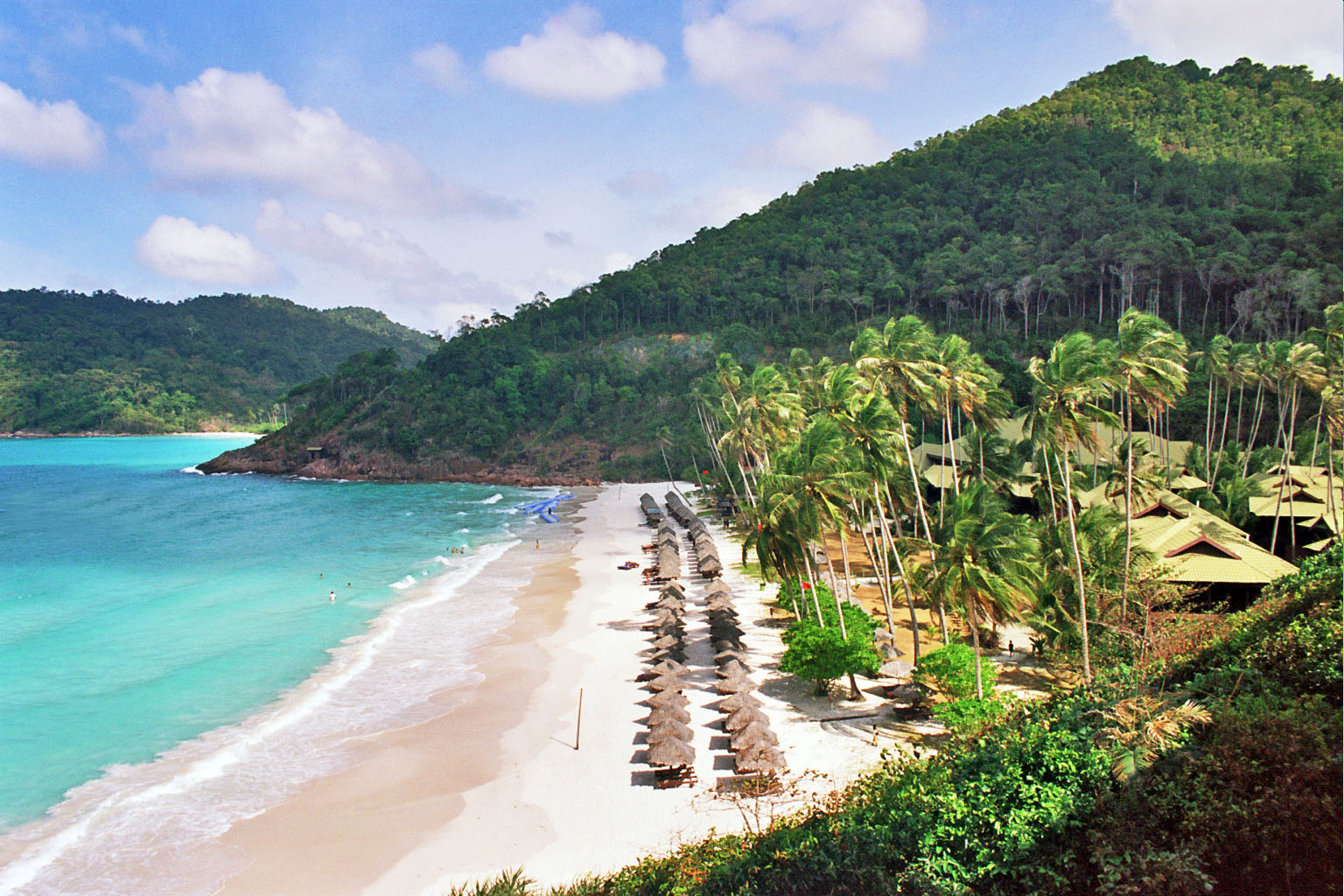 3. Shangri-la Rasa Ria Resort, Kota Kinabalu
The brand name of Shangri-la itself is sure to ring a bell in your mind. Undoubtedly, it is one of the premier resorts in the whole world and is a must-visit among the best beach resorts in Malaysia. You will find yourself on a large island with over 400 acres of sprawling land urging you to go on an expedition. The exotic flora and fauna that you will come across on this island cannot be explained in words. There is also an Orangutan Conservation Centre which is a must-visit at Shangri-la Rasa Ria Resort in Kota Kinabalu. Get ready for a heavenly escapade at this resort.
Also read: Top 10 Best Beaches In Malaysia You Wouldn't want to Miss
4. Casa Del Mar, Langkawi
Casa Del Mar is an offbeat resort located in Langkawi. Apart from witnessing the traditional Malaysian culture, also look forward to a tinge of Mediterranean traditions in this beach resort. The luxurious rooms and hospitality with which the hotel staff greet you will make you want to stay here forever. The resort will treat you to sunset dinner cruises which will be a perfect experience to take up along with your better half. Experienced guides are also available on-site at the beach to provide you with sailing lessons. You can even enjoy a quiet little picnic by the beach for some laid back time.
5. Taaras Beach and Spa Resort, Redang
Redang Island is home to some of the best beach resorts in Malaysia. If you are a peace seeker, the Taaras Beach and Spa Resort is your ultimate getaway from the hustle and bustle of the mainstream travel hotspots. The rooms are affordable with rates starting from RM 600 and going up to RM 1100. You also have a hoard of sunrise or sunset dinner cruises that you can enjoy in addition to turtle walking tours which will be a truly mesmerizing experience. Do not forget to try out the scrumptious Malaysian cuisine from the variety of restaurants available at this resort!
6. Golden Sands Resort, Batu Ferringhi
Located on the Batu Ferringhi beachfront, you can expect a typical beach vacation if you choose to stay at Golden Sands Resort. Enchanting sunset cruises along with your better half will be the ideal way to spend your time at the resort. You can also look forward to live bands performing some great numbers to which you can shake a leg or two! There are outdoor pools as well where you can relax and unwind after a tiresome day of exploring the resort. Do not worry about your budget as it will cost a maximum of RM 700 for a standard couple room making it a pocket-friendly beach resort in Malaysia.
7. The Japamala Resort, Timon Island
Tioman Island itself is a scenic getaway for all nature and beach lovers. The Japamala Resort on Timon Island certainly holds one of the top spots among the best beach resorts in Malaysia. It is a great place for diving where you can also get your own open water licence. Jungle treks can also be taken up in the vicinity wherein you can look forward to exotic biodiversity. If you are not too much into adventure, you can always enjoy a delicious meal or sip on a drink while taking in the view of the waves. The rooms cost anywhere between RM 700 to RM 2300 and you will get to taste authentic International cuisine during your stay as well.
The best part about your vacation is the accommodation. Do it the right way and choose to stay at the best beach resorts in Malaysia. This will truly be a vacation done right! To help you with the best choice, Pickyourtrail will provide you with the best Malaysia tour packages and the option of customising your own itinerary. If you require more assistance, you can always reach out to us on WhatsApp or download the Pickyourtrail app for more details.
Download the Pickyourtrail app, the best travel app:
Play store – https://play.google.com/store/apps/details?id=com.pickyourtrail&hl=en_IN
IOS: https://apps.apple.com/in/app/pickyourtrail/id1400253672
Note: The images that are being published here are the author's choice, and the organisation takes no responsibility for their usability.