Bali isn't only famous for its unique cultural arts, but features a very beautiful nature and is in a position to attract visitors to return back to Bali. Waterfalls are one of the natural attractions in Bali. Most regions in Bali have waterfall attractions and one of them is the Tegenungan waterfall. Tegenungan Waterfall locally called as Air Terjun Tegenungan is one the leading popular and toured waterfalls inside the Gianyar area. Tegenungan is one of the rare waterfalls in Bali that isn't located in the highlands or hills. It's not really that tall, only 15 meters high. Tegenungan waterfall is exclusive for its lush green surroundings and heavy water flow, perfect for swimming and enjoying the water. Tegenungana waterfall may be an excellent spot to go for a day trip. Tegenungan Waterfall Bali could also be a real paradise for travellers seeking to escape the push of Bali's city streets and concrete centres.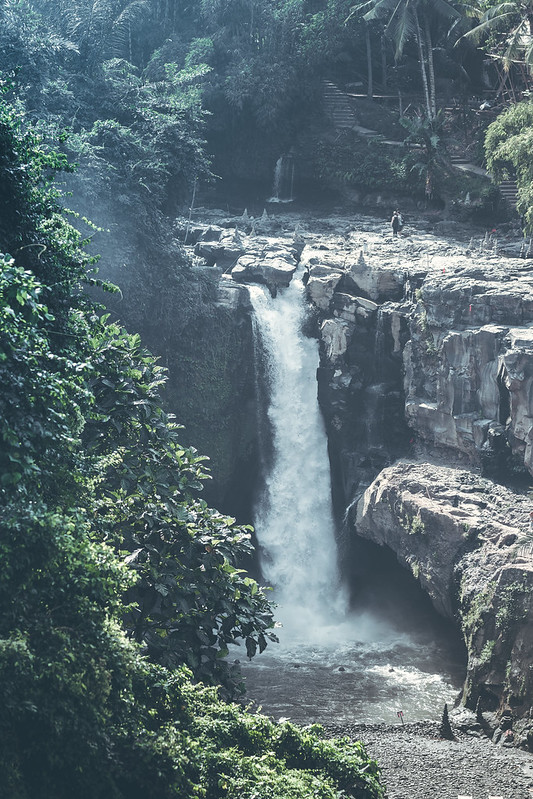 How to Reach Tegenungan Waterfall
Located within a tropical jungle within the village of Kemenuh, Sukawati subdistrict, Gianyar regency, Bali, Indonesia. It's about 10 km southeast of Ubud on Jalan Raya Sutami. In addition, it's 36 km from Denpasar Ngurah Rai International Airport, and 39 km from Nusa Dua. going to the falls may be a pleasant drive down paved village roads lined with stretches of green rice fields on each side. It is documented by drivers and if you're on a scooter you'll probably ask any local for help finding it. The hike – it's a brief hike (10 minutes) down many stairs to the river then it's a brief distance to the waterfall walking across rocks and makeshift bamboo bridges (ankle-deep water). There are drink stands at the highest with an elevated view of Tegenungan Waterfall within the distance. Its raging waters tumble over black stone cliffs into a quiet pool that's perfect for swimming, soaking and relaxing..Especially within the morning, the sweetness of the verdant jungle is going to be at the simplest because the daylight shines peeping above.
Entrance Fee at Tegenungan Waterfall
Visits to the Tegenungan Waterfall are subject to an admission of 15,000 IDR per person for adults and 10,000 IDR per person for a child
Also Read: The Serenity of Bali – Gitgit Waterfall
Tegenungan Waterfall Opening Hours
The Tegenungan Waterfall is open for the public Monday to Sunday, which opens from 06.30 am to 06.30 pm. However, there are specific times when the waterfall gets at the foremost stunning view, The best timing starts because the sun half-rises at 09.00 am and a half-set at 03.00 pm. The place will get busy and crowded most at 12.00 pm.
Tips
We recommend renting a scooter, you'll get them for around 75,000 IDR per day, as it's the most cost-effective option and straightforward enough to seek out with google maps.
If you're not comfortable driving on two wheels then drivers are available to rent everywhere on the island for around USD 35 IDR per day.
The stairs down are quite easily walkable, so you don't need any hiking shoes. Sandals are fine, but actually, if you aim to climb slightly off the beaten path to urge unique views and photos, an honest pair of shoes is usually recommended. We recommend renting a scooter, you'll get them for around 75,000 IDR per day, as it's the most cost-effective option and straightforward enough to seek out with google maps.
Also, cliff jumping isn't recommended.
So, if a long weekend is around the corner and you want to add an offbeat destination in your travel diary, you certainly should know more about the captivating Tegenungan Waterfall. Planning a trip to Bali? Check out the best Bali holiday packages to make your trip memorable with Pickyourtrail.
Note: The images that are being published here are the author's choice, and the organisation takes no responsibility for their usability.