Vietnam is a Southeast Asian country with a rich culture and historic heritage, and its temples play a significant role in that heritage. The temples in Vietnam mostly honour Buddhist and Hindu deities and are important cultural and historical sites in addition to being places of worship. The quiet and peaceful ambiance of many temples in Vietnam is enhanced by the lovely gardens and scenery that surround them, so, don't miss them. Moreover, Vietnam's temples are a tribute to the nation's rich cultural legacy and provide tourists with a window into both the country's past and present. If you are planning to travel to Vietnam, don't forget to explore its beautiful temples. Keep scrolling through to know more about Vietnam and its amazing temples. 
8 Beautiful Must-Visit Temples in Vietnam
In addition to being major architectural landmarks, temples serve as living examples of a country's culture, beliefs, and customs. It plays a crucial role in the daily lives of the people who live there. Take a peek at these 8 magnificent temples and be sure to add them to your itinerary for Vietnam to have a great trip!
1. Tran Quoc Pagoda, Hanoi
The Tran Quoc Pagoda in Hanoi is more than just a temple; it is a time capsule that captures the spirit and culture of Vietnam. The pagoda, which is located on the coast of West Lake, is a haven of calm and tranquillity in the middle of a busy city. As you approach the temple's gates, the sound of jingling bells and the aroma of burning incense fill the air. The pagoda is surrounded by lush gardens and koi ponds. It is decorated with intricate carvings that represent scenes from Buddhist mythology and local folklore. The pagoda was established in the sixth century and is one of Vietnam's oldest pagodas still in use today.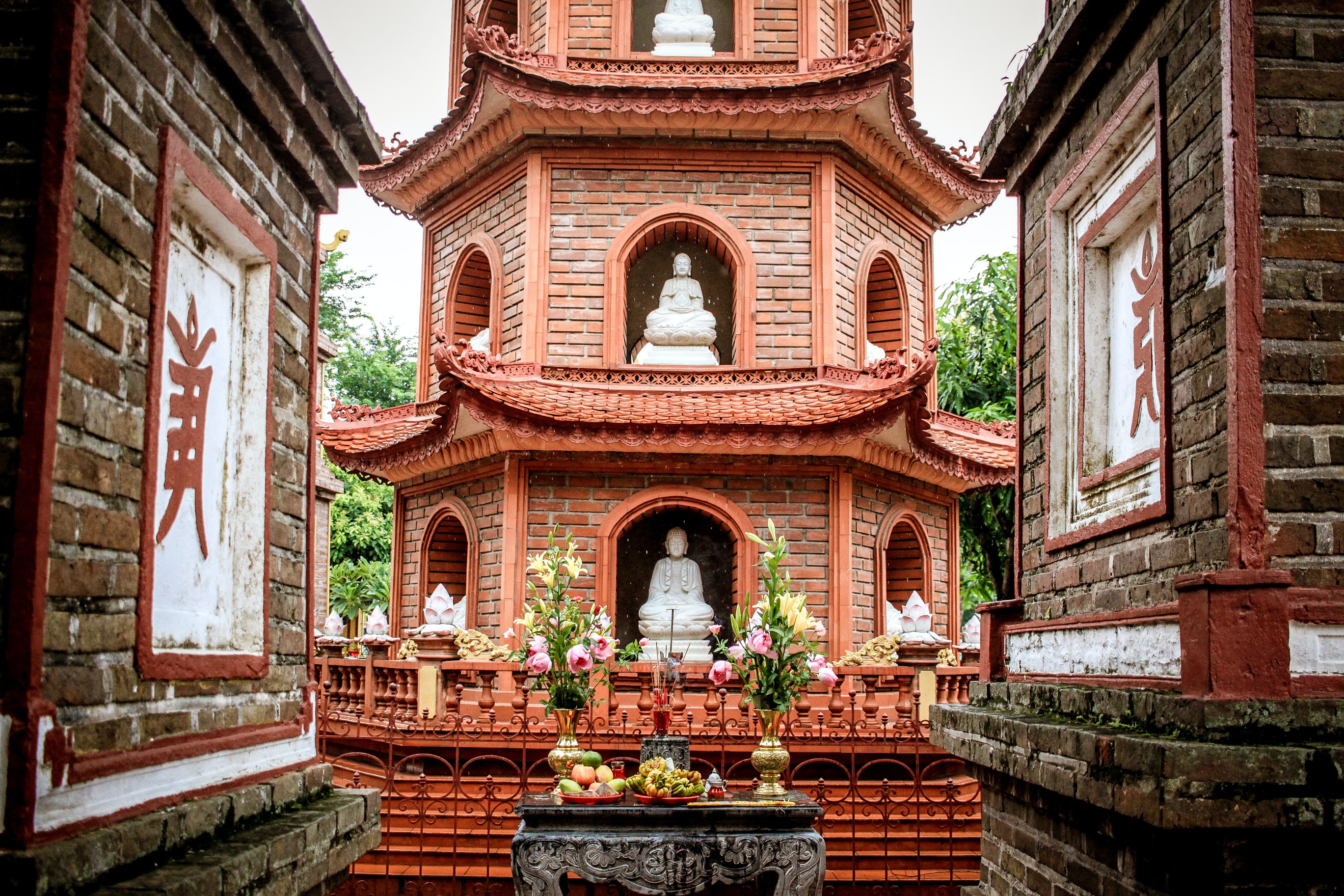 2. Temple of Literature, Hanoi
The Temple of Literature in Hanoi is a real architectural and cultural treasure. It is a portal into Vietnam's ancient past that still vibrates with the voices of thinkers and sages from a previous era. The Temple of Literature, which dates back to the 11th century and is devoted to Confucius, an ancient Chinese philosopher and scholar, and is regarded as Vietnam's oldest university. With its exquisite carvings, and artistic decorating, the temple is a beautifully blended example of traditional Chinese and Vietnamese architecture. The Temple of Literature is surrounded by peaceful gardens and beautiful scenery outside its fortified walls. Hence, it is the ideal place for contemplation and meditation.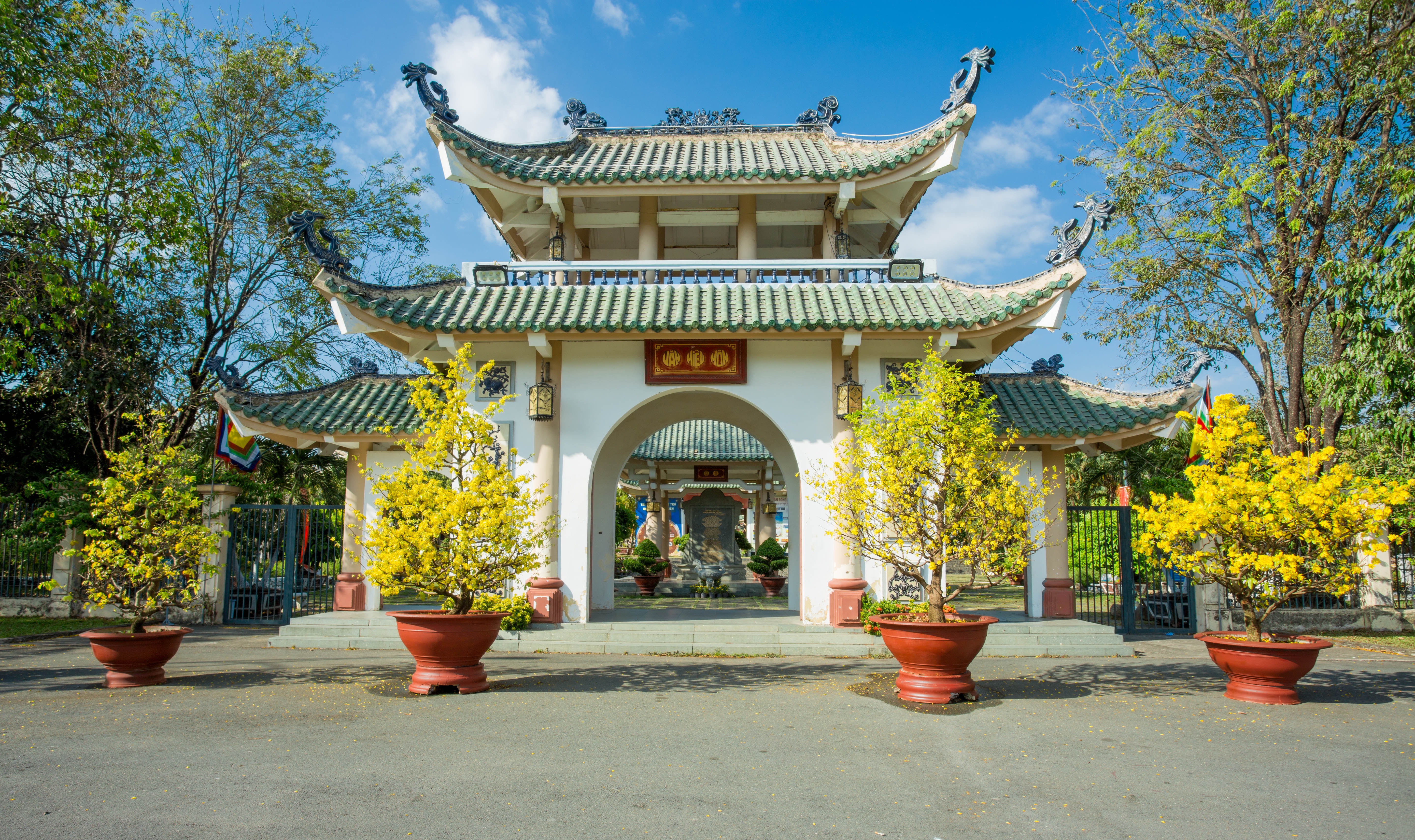 3. Perfume Pagoda, Huong Son
The Perfume Pagoda is a spiritual sanctuary that resembles out of a fantasy world. It is hidden away in the limestone hills of Huong Son. With its winding roads, peaceful ponds, and lush green trees, this Buddhist temple complex offers a unique opportunity for spiritual exploration. At dusk, when the sun begins to set and creates a golden glow over the temple, reflecting off the river, the surrounding scenery is especially stunning. On your journey to Vietnam, make sure to visit the Perfume Pagoda. It is not only a religious site but also a natural treasure buried away in the mountains.
Also read: Traditional Dress of Vietnam: A look at Vietnam's Multi-Ethnic Culture!
4. Thien Mu Pagoda, Hue
The Thien Mu Pagoda in Hue is a memorial to Vietnam's rich cultural legacy and a treasure trove of history and spirituality. The pagoda, an octagonal tower with seven stories, was constructed in the 17th century by the Nguyen dynasty. The pagoda offers a tranquil and calm ambiance and is situated on the banks of the Perfume River. You'll be welcomed by the sound of running water and the aroma of burning incense as you approach the pagoda. A trip to this pagoda takes you deeper into Vietnam's past and present than merely a trip to a shrine.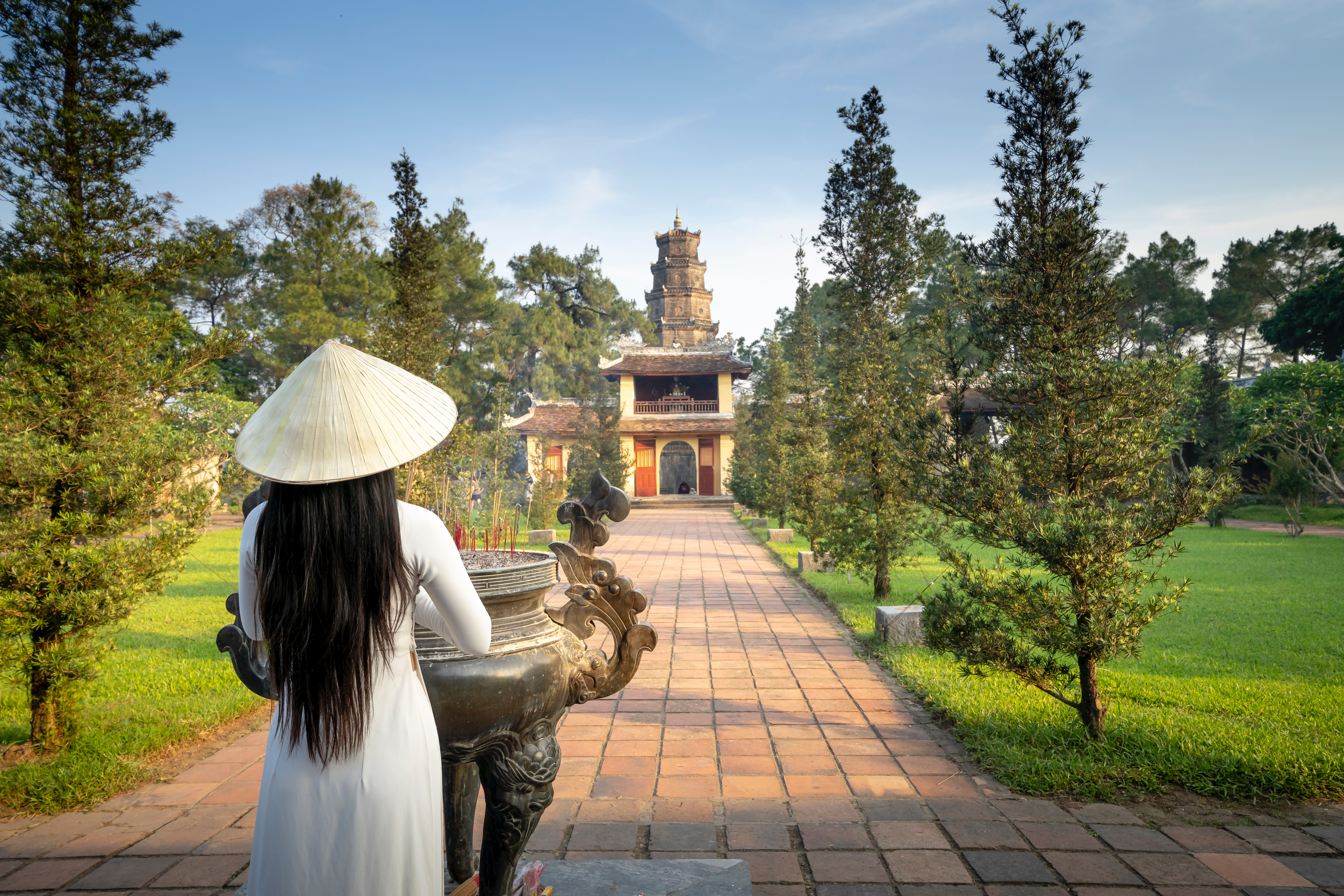 5. Cao Dai Temple, Long Hoa
The Cao Dai Temple in Long Hoa is a lively and colourful temple that resembles something out of a dreamlike artwork. The impressive architecture of the temple first catches your eye as you go closer. The temple is a fusion of different architectural styles, including Gothic, Renaissance, and Art Deco elements. It is a holy site where pilgrims go in search of wisdom, blessings, and calm.
Also read: Most beautiful islands in Vietnam – Witness a stunning sight in itself
6. Giac Lam Pagoda, Ho Chi Minh City
The Giac Lam Pagoda in Ho Chi Minh City is a tranquil haven. The Pagoda dates back to the year 1744 and is the oldest Buddhist temple in Ho Chi Minh City, known for providing a pleasant retreat away from the rush of the city. With its exquisite carvings and lavish embellishment, the pagoda's building blends traditional Chinese and Vietnamese designs. A trip to this pagoda takes you further into the city's history, culture, and spirituality than just a trip to a temple.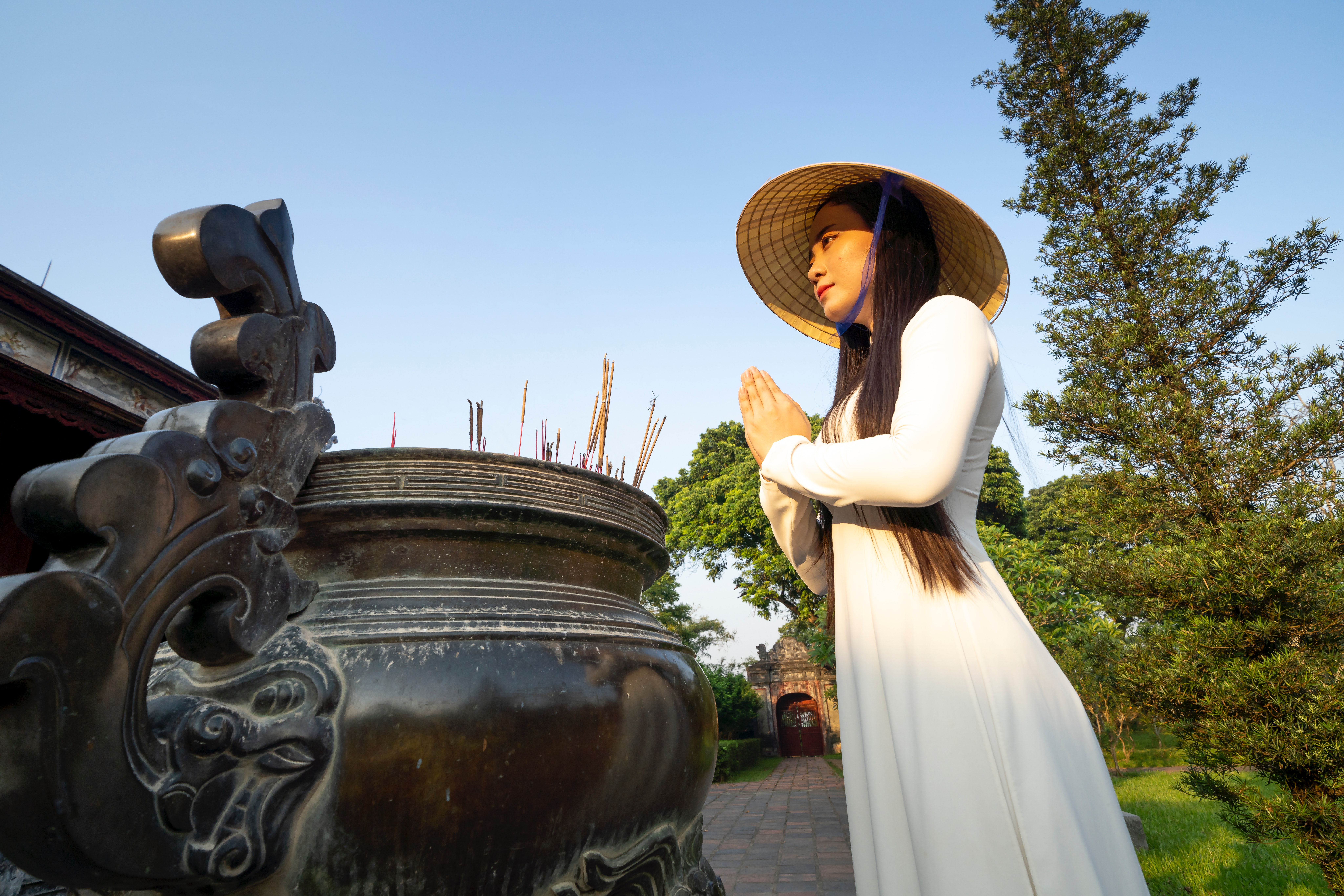 7. Bai Dinh Pagoda, Ninh Binh
The Bai Dinh Pagoda is an architectural and spiritual marvel that can be found in Ninh Binh's scenic surroundings. The pagoda is one of Vietnam's biggest and most significant Buddhist temples.  The pagoda is a representation of Buddhism's success in Vietnam, and combined with the breathtaking scenery, it is the perfect place to experience both nature and spirituality.
Also read: Vietnam in March 2023: Weather, Places to visit, Things to do and More!
8. Mariamman Temple, Ho Chi Minh City
The Mariamman Temple, a brilliant and colourful sanctuary that provides a look into the rich culture and beliefs of the Tamil population. This beautiful temple is located in the busy streets of Ho Chi Minh City. The temple is dedicated to the worship of the Hindu goddess Mariamman, also known as the goddess of health, and is one of the most prominent temples in the city for Tamils. The bright ambiance and rich symbolism of the temple provide tourists with a glimpse into Tamil culture and its beliefs, traditions, and rituals.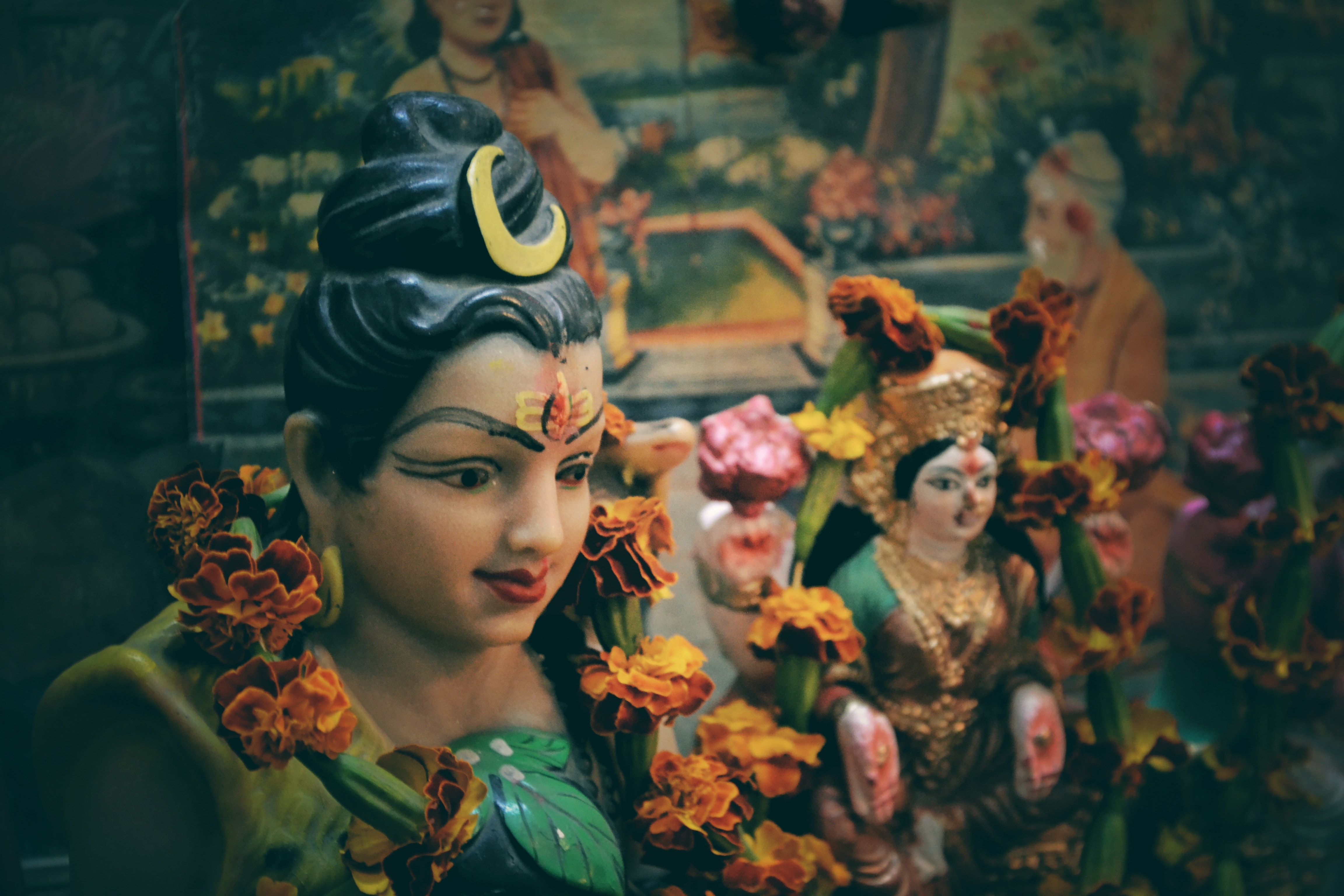 Are you ready to tour and explore Vietnam's magnificent temples in order to unlock the door to its astounding past? Get the best offers on Vietnam packages from Pickyourtrail and experience Vietnam to the fullest. Here, you can also create a customised itinerary for your trip to Vietnam and have a vacation on your terms and conditions. Start crossing items off of your travel to-do list right away.